Automated External Defibrillators (AEDs)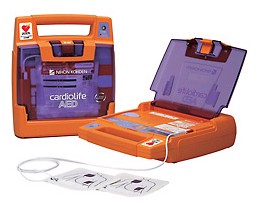 You may have seen or heard news of a person who suddenly collapsed and died during sporting activities.
The most common cause of sudden death is ventricular fibrillation (VF), an abnormal heart rhythm (lethal cardiac arrhythmias), which claims 50,000 lives in Japan alone each year.
Even outside of sporting activity, sudden cardiac death can occur anywhere (railway stations, airports, at work, etc.) and at any time, making it a problem familiar to us all.
In order to save the life of a sudden cardiac victim, it is crucial to restore a normal heart rhythm by cardiopulmonary resuscitation (CPR) and early delivery of shock with an AED (automated external defibrillator) until an ambulance arrives.
*CPR steps: Keeping the airway open, performing artificial breathing, and giving chest compressions.
AEDs are designed to be simple and easy to operate and their use by non-medical personnel is approved.
By following the audio prompts and attaching the AED electrode pads to the chest of the person who needs help, the AED will automatically analyze their heart rhythm. If VF is detected, the device will automatically deliver a shock. Note that semi-automatic AEDs will prompt you to administer a shock by pressing the shock button.
This ease of use has led to an increase of AEDs installed at train stations, airports, and other public facilities in recent years. Osaka University has also installed AEDs at major locations on its campuses, so please make use of them if you ever find yourself in an emergency.
Translator's note:
Functions of AEDs may vary by device type.
---