Access Maps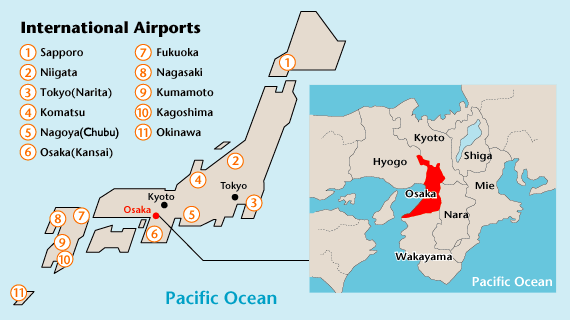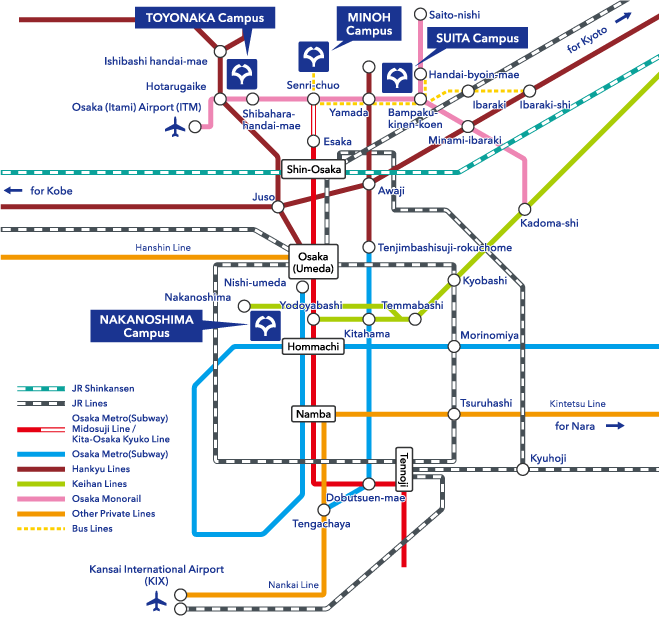 Toyonaka Campus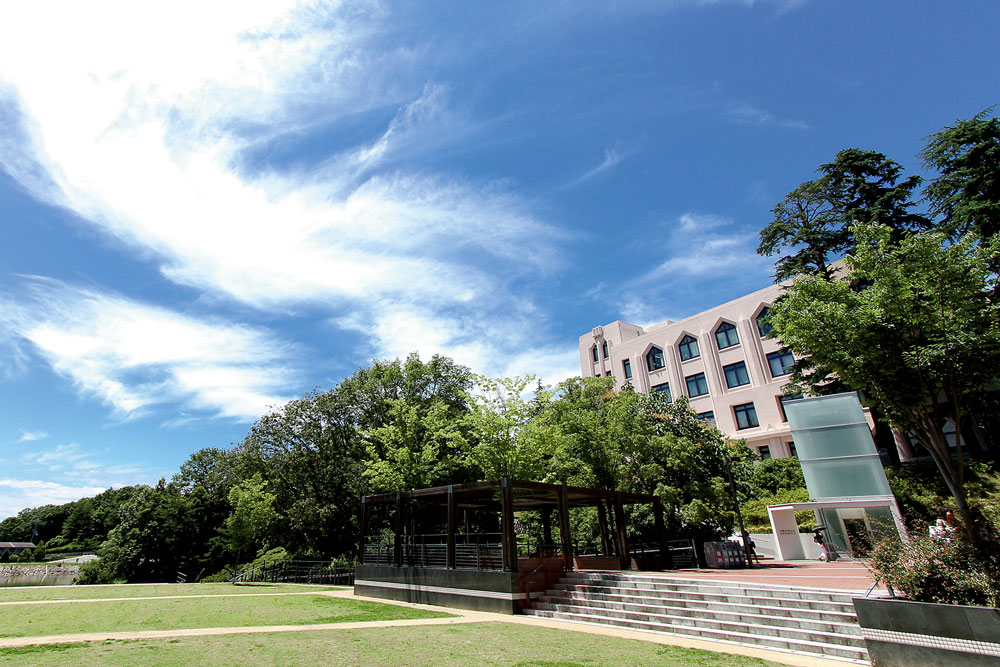 ● Location : Machikaneyama, Toyonaka, Osaka
 

Access

Train

15'~25' east on foot from Ishibashi handai-mae, Hankyu Takarazuka Line.
Center for Education in Liberal Arts and Sciences (about 15')
Schools of Letters, Law, Economics (about 20')
Schools of Science, Engineering Sciences (about 25')




   Subway Midosuji Line to Senri-Chuo, → Monorail, exit at Shibahara-handai-mae. (1 hr.)

Monorail

10'~15' west on foot from Shibahara-handai-mae.

Airport

    Monorail to Shibahara-handai-mae. (30')

From Kansai International Airport (3 choices)

JR line to Osaka, → subway Midosuji Line, exit at Senri-Chuo, → Monorail, exit at Shibahara-handai-mae. (2 hr.)
Nankai Line to Namba, → subway Midosuji Line, exit at Senri-Chuo, → Monorail to Shibahara-handai-mae. (2 hr.)
Airport Bus to Osaka Airport, → Monorail, exit at Shibahara-handai-mae. (2 hr., 30')
Suita Campus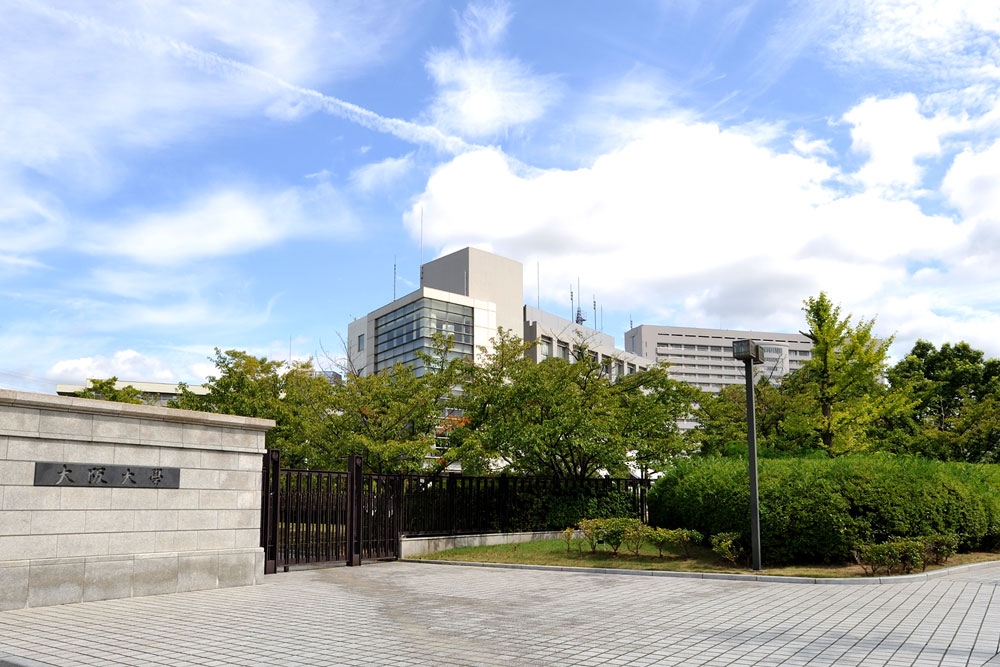 ● Location : Yamadaoka, Suita, Osaka / Mihogaoka, Ibaraki, Osaka
Access

TRAIN

15'~30' east on foot from Kita-Senri, Hankyu Senri Line.

Administration Bureau, School of Human Sciences; Medical School of Faculty of Medicine (about 30')
School of Allied Health Sciences of Faculty of Medicine; Schools of Dentistry, Pharmaceutical Sciences  (about 25')
School of Engineering (about 15')




   Subway Midosuji Line to Senri-Chuo, → Monorail. Exit at Handai-Byoin-Mae. (1 hr.)

Monorail

5'~15' on foot from Monorail Handai-Byoin-Mae.

Bus

Hankyu Bus
Bus for Handai-Honbu-Mae or Ibaraki-Mihogaoka at Senri-Chuo. Exit at Handai-Honbu-Mae. (5'~15')
Kintetsu Bus
Bus for Handai-Honbu-Mae from Ibaraki-Shi, Hankyu Kyoto Line. Exit at Handai-Honbu-Mae. (5'~15')

Airport

From Osaka Airport (Itami)
Monorail to Handai-Byoin-Mae. (1 hr.)


From Kansai International Airport (3 choices)

JR line to Osaka, → subway Midosuji Line, exit at Senri-Chuo, → Monorail, exit at Handai-Byoin-Mae. (2 hr.)
Nankai Line to Namba, → subway Midosuji Line to Senri-Chuo, → Monorail to Handai-Byoin-Mae. (2 hr.)
Airport Bus to Osaka Airport, → Monorail to Handai-Byoin-Mae. (2 hr. 30')
Minoh Campus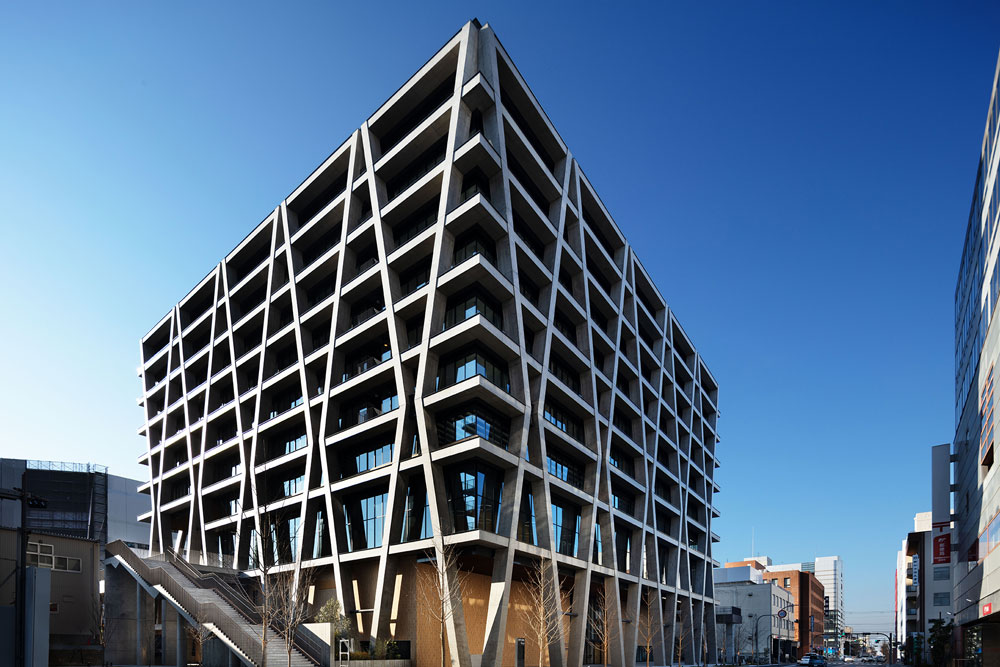 ● Location:Semba-higashi, Minoh, Osaka



ACCESS

Monorail

Kita-Osaka Kyuko Line
25' north on foot from Senri-Chuo.
*Head north from Senri-Chuo along Shinmidosuji. (Be careful not to pass through any residential areas.)

Bus

From Senri-Chuo: take line [81], [82], [83], [85], or [22] from bus stop (7), or line [19] or [20] from bus stop (11) for Shinsemba-kitabashi bus stop. Minoh Campus is a 5' walk from the bus stop.

Airport

JR line to Osaka, → subway Midosuji Line, exit at Senri-Chuo, → walk/bus [see left].
Airport Bus to Osaka Airport, → Monorail to Senri-Chuo → walk/bus [see left].
*Be aware that express buses and certain other buses may not stop at Shinsemba-kitabashi.
*Disembarking locations at Shinsemba-kitabashi vary depending on the bus line number. (Northbound or Westbound)
*For Senri-Chuo, board the bus at Shinsemba-kitabashi (Southbound) bus stop.
Tokyo Office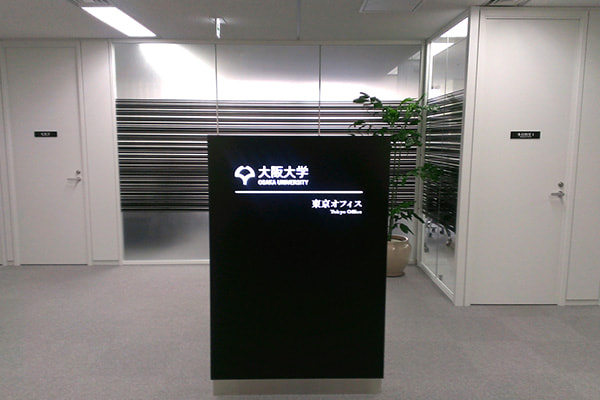 ● Location : 10th Floor, Nittochi Bldg., 1-4-1 Kasumigaseki, Chiyoda-ku, Tokyo
 

ACCESS

Subway

Tokyo Metro Ginza Line … 1 min. north by foot from exit 7 of Toranomon.
Tokyo Metro Chiyoda Line/Hibiya Line/Marunouchi Line … 3 min. south by foot from exit A12 of Kasumigaseki.
※  For more details on the Tokyo Office, please click here.
Campus Shuttle Bus service