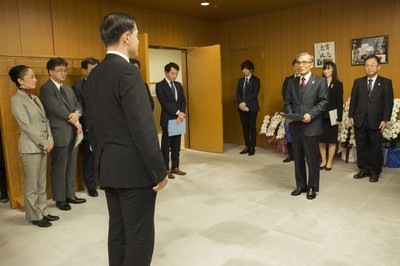 Osaka University selected as a Designated National University Corporation
Osaka University was selected as a Designated National University Corporation by the Minister of Education, Sports, Science, Culture and Technology (MEXT) on October 23, 2018.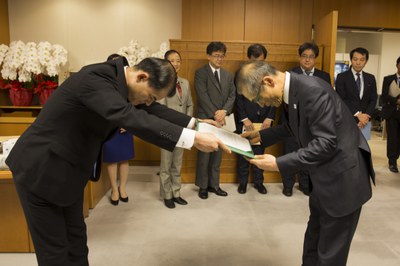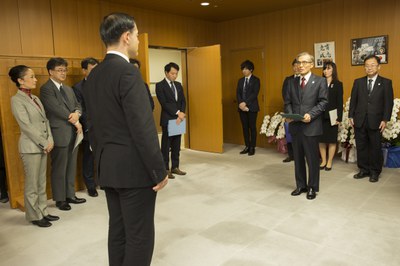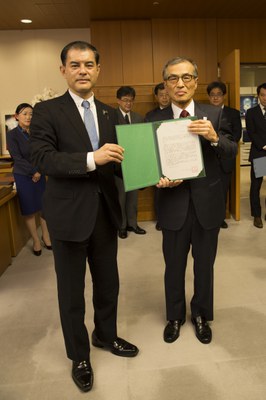 President Nishio receives the certificate from MEXT Minister Masahiko SHIBAYAMA

Related link
For more information about Designated National University Corporation Osaka University, click here. (page in Japanese, English forthcoming)
Outline of Osaka University's Ideal Model and Vision
For the purposes of enhancing the level of education and research and creating innovation at universities in Japan, the MEXT Minister selects universities that have significant potential for developing world-leading education and research activities as Designated National University Corporations in the Designated National University Corporation System.
Selected as a Designated National University Corporation, Osaka University must now directly compete with the best universities in the world. With this new designation, the university is expected to produce visible results that contribute to the development of society and the economy and to play a leading role in national university reform.
Comment from the President
Osaka University was established through financial support from local political and financial circles and citizens and their strong passion. Since its establishment, the university has pursued universal truths, producing outstanding talent under its motto of "Live Locally, Grow Globally."
In drastic structural changes in society, as a Designated National University Corporation, Osaka University will go ahead with "co-creation," that is, working with society across boundaries and using its knowledge and resources. Osaka University will pursue "co-creation" activities together with society in shared forums to explore and solve social issues together. Through these efforts, Osaka University will achieve outstanding research results and nurture individuals who will be active in co-creative activity on the world stage.
We are strongly committed to becoming a world-leading innovative university that will contribute to innovation for human welfare, sustainable development of society, and social transformation.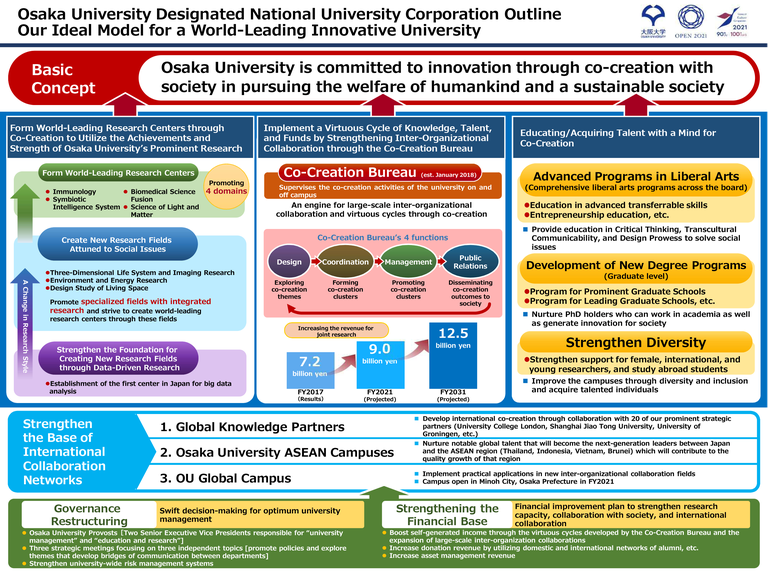 For more information about Outline of Osaka University's Ideal Model and Vision, click here . (PDF)