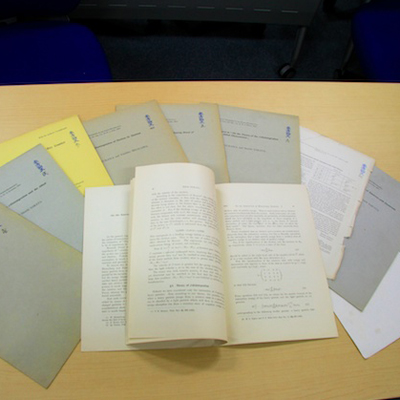 Making Dr. Hideki YUKAWA's thesis on the Meson Theory available to the public
Dr. Hideki YUKAWA was employed as a lecturer and assistant professor from 1933~1939 at the School of Science of Osaka Imperial University. During this time, in 1938, he completed his thesis entitled "On the Interaction of Elementary Particles," earning his doctor's degree from the university. That thesis has been discovered stored in the library and on May 13, together with the unveiling ceremony for Dr. Yukawa's favorite blackboard , the thesis was shown to news media.
The entry "#584, YUKAWA Hideki, School of Science, April 5, 1938" can be noted on the doctoral dissertation register. Dr. Yukawa was later recognized with a Nobel Prize in Physics for the meson theory in his dissertation. Dr. Yukawa announced the meson theory at a conference in November 1934.
This year marks the 80th anniversary of that announcement. On this important year, Professor Yukawa's achievement is being recognized once again. Osaka University will treasure his dissertation and is considering making it available for viewing by members of the public.
---
The Museum of Osaka University houses many items related to Dr. Yukawa.
| | |
| --- | --- |
| President Toshio Hirano hold's a copy of Dr. Yukawa's thesis as he speaks about it. | Dr. Yukawa's thesis and reference treatises. |
| | Click on image to view legible page. |
| Officials in attendance unveil the blackboard. | Prof. Nambu writes his name on the blackboard. |
| Signatures and more by those in attendance. | Dr. Yukawa's son (Harumi) and his wife |
| Prof. Nambu recounts memories of Prof. Yukawa. | Commemorative messages by Prof. Nambu and President Hirano. |