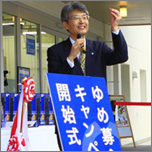 Osaka University Future Funds kicks off "Dream Fundraising Campaign"
Osaka University Future Funds launched a "Dream Fundraising Campaign" on Tuesday, October 1, 2013 in front of the University Co-op (Toyonaka Welfare Bldg.).
Both President Toshio HIRANO and OU trustees were in attendance. President Hirano gave a greeting, saying, "Faculty, staff, and students, all of you, please actively support Osaka University becoming one of the top 10 universities in the world by its 100th anniversary in 2031. We also ask for your warm support in assisting Osaka University Future Funds reach its donation target of ¥10,000,000,000." Following that, President Hirano called upon the people assembled to each donate a ¥500 coin, rewarding each donor with a copy of the Osaka University NewsLetter 2011~2013 .
In the coming weeks, the NewsLetter will be available in University Co-op stores on each of the campuses in exchange for a one-coin donation.
| | |
| --- | --- |
| Ribbon-cutting ceremony (L-R: Trustee Otake, President Hirano, and Trustee Okada) | President Hirano places a coin in the donation box. |
| | | |
| --- | --- | --- |
| Preident Hirano entreats passersby to make a donation. | Trustee Otake gives a copy of 2011~2013 NewsLetter to a donor. | The President, Trustees, and the Manager. |