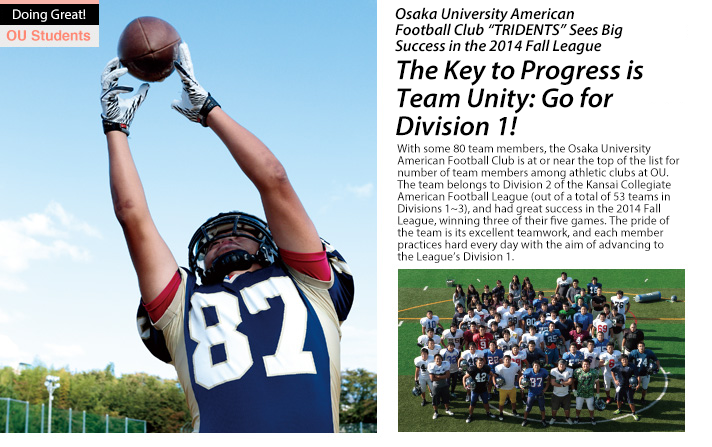 The Key to Progress is Team Unity: Go for Division 1! - Osaka University American Football Club
The team's name, "Tridents," comes from the Greek mythological term meaning "three-pronged spear," which represents the three campuses of Osaka University after its merger with Osaka University of Foreign Studies: Toyonaka, Suita, and Minoh. The team meets for practice five times a week, including Saturdays and Sundays, primarily on the field at Toyonaka Campus. Strategy is an important part of American football, so much so that it's called a "sport of preparation," with players analyzing practice footage taken by the female club members and hammering out new strategies in post-practice meetings.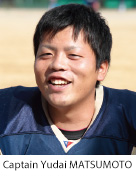 Three times a week on weekdays, the American Football club members reserve the cafeteria under the library on the Toyonaka Campus from 8pm. "While it is important to practice in order to stay healthy and in shape, meals are also important. Thanks to the support from the parents' association of the club, members are allowed to eat a full dinner, complete with balanced side dishes and a big serving of rice, for 500 yen," says team captain Yudai MATSUMOTO (4 th year, School of Science). "We eat dinner with players of the same position, regardless of school or year. We often get lost in lively conversations that we can't have during practice, so this helps to foster a sense of friendship in the team." After-dinner meeting time lasts until around 11 pm.
Mr. Matsumoto said, "I played soccer until I graduated from senior high school. Just like a lot of my teammates, I only started playing American football after I entered Osaka University. Immediately after entering OU, I pictured myself enjoying futsal in a club and working a part-time job, but when I took a look at the American football club at the club introduction event for freshmen, the members seemed so bright and friendly. Won over the passion of the older members, I thought, 'I can only give something my all while I'm still a student,' and decided to enter the club."
In American football, men in helmets and shoulder pads run, pass, and tackle with an oval-shaped ball. The form and movement of players in a game can be quite spectacular, but behind that grace lies monotonous practice of the same motion over and over again. "OU students are inherently serious. One of the positives of the team is that we put forth serious effort for steady practice. I take pride in that," said Mr. Matsumoto. Alumni and Club Coach Akira KAWASAKI also sees this integrity as a positive, saying, "Even if you can't do something amazing, you do what needs to be done. This will lead to making fewer mistakes and, in turn, winning more close games."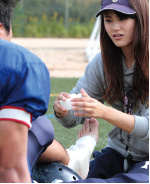 He continued, "The power of the girls in the club, whom we call 'female staff members' instead of 'managers,' is also indispensable. They diligently perform a variety of jobs, such as checking the status of seriously injured players and recording and analyzing daily practice on the field. They also update the club's webpage. They're so dependable."
The members of the club also interact with the local community by providing guidance for flag football at elementary schools in Toyonaka City several times a year.
Since some 30 players can compete in any one game, even players on a team this large have a lot of opportunities to play. Even if you are just a beginner, if you work hard, you've definitely got a chance.  Each player grows and understands how they should move within the team by playing while thinking about their movements and strategies in daily practice and games.
• American Football Club "Tridents"
The OU American Football Club was founded in 1967 under the name "Hercules." The club became the "Tridents" after merging with the "Gamblers," the football club of Osaka University of Foreign Studies, in 2008. (Osaka University merged with Osaka University of Foreign Studies in 2007.)
The two teams fused beautifully, becoming stronger as a team and creating a friendly atmosphere. The team is in the Kansai Collegiate American Football League's Division 2 and the team's motto is "Have a strong will."