Asahi Breweries, Ltd. ensures quality by coupling advanced technology with human experience
" Seeing first-hand " is a project that provides current OU students with a visit to the front lines of business. The company visited in this case was the Asahi Breweries, Ltd. factory in Suita City, not all that far from the Suita campus. Two students, FUKUMITSU Maho , 1st year, School of Foreign Studies, and YOSHIYAMA Hitomi , 2nd year, School of Engineering Science, both members of the student movie production group OUT+V, visited the Asahi Breweries factory and made a short movie of their visit. Maho interviewed staff while Hitomi filmed their visit.
It's like a roller coaster!
Asahi's Suita factory occupies a large piece of land adjacent the JR Suita Station. Near the main gate and the guest house on the premises, a brick wall built more than 120 years ago still stands. SUGANUMA Junya , a graduate of the Graduate School of Science and currently one of the staff of the Brewery Department, served as their guide.
At the malt exhibition corner, Maho tasted some of the malt and commented, "It's good. Reminds me of sunflower seeds." The conveyor belt bottling process really impressed Maho and Hitomi, particularly when they learned that it bottled 600 bottles a minute! Bottles moving smoothly through the gymnasium-sized factory almost appeared to be enjoying a roller coaster ride. However, the canning process turned out to be even more mind-bending than the bottling process -- 1,500 cans a minute! Their eyes opened wide hearing that this amounted to 3.4 million cans of beer each day!
On an enormous tank
Later from a factory window they looked out on row upon row of enormous tanks. The gigantic tanks were 140 in number, 7 meters in diameter, 23 meters in height, and held 5 kiloliters. The tanks are where wort (beer before yeast has been added) and hops are mixed and aged. The market value of the beer in just one tank is roughly 300 million yen!
They next got a special treat, not a part of the typical Asahi factory tour, going up to where usually only technicians go. First, they went up in an elevator the 5th floor. From there they stepped out on to a metal mesh walkway connecting the tops of the many enormous tanks. They found this intimidating at first, but as they got used to the height, Maho said she smelled beer and posed for Hitomi.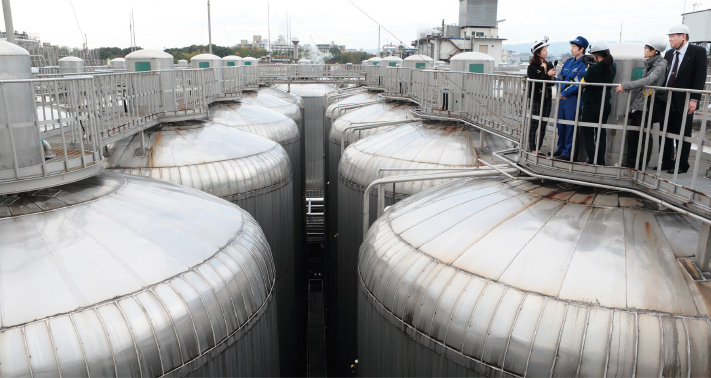 The final test: a human touch
In order to guarantee safety and quality, brewery staff check the taste, flavor, scent, and foaming of the beer everyday with the latest technology and also by actually tasting some. Junya, already qualified as a "panelist," participates in this test as a beer taster. He told them, "An experienced taster can even tell which factory made the beer. We drink a bottle of beer in the test, so we conduct the tests in the evening before going home."
Make the most your college life
Thanks to this glimpse into working at such a company, Hitomi was deeply impressed, realizing how some everyday products were produced. She commented, saying, "Junya and I are both in our 20s, but I felt a big difference between us since he is in the adult world as a company employee, but I am still a student. This visit taught me about the adult world. It was so rewarding."
" For me, landing a job seems to be way off in the future, but it's not so far off. I need to apply myself more in my college life."
Interviewing one of the staff members who graduated from Osaka University

"Confidence is built by overcoming failure"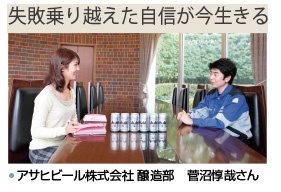 Tell me what's hard about your job and why you like it.

Even if a new product is developed at a research institute, it's hard to mass produce it in a factory. But when I have made that possible, I feel a sense of accomplishment. Also I enjoy making alcoholic beverages that help people cope with their daily ups and downs.
What were the good points of Osaka University for you and how did it help you get where you are now?

Studying specialized subjects was important, but I also took classes in a variety of fields at Osaka University. That widened my viewpoint and gave me a chance to meet different people. A two-month vacation is a privilege only for students so I encourage you to try a variety of things. While I was overseas for two weeks without any plans, I had troubles, but that strengthened me for dealing with problems even in a pinch. Working in a lab, I had to make plans and achieve results, but I had many failures along the way. I overcame such failures through discussing things with teachers and  upperclassmen. Such experiences are useful now.
Do you have any advice to students who are looking for a job?
First consider what you want to do. Then consider where you'd like to work based on your interests. It is also good to meet many different people and not just study in one field. Also, when you're tired, it's also important to let steam off over a couple of drinks. Of course, you'll be able to do that after you turn 20.
Asahi Breweries, Ltd. and Osaka University
Osaka Beer Company, Asahi Breweries predecessor, began making beer in 1889. The first modern beer brewery in Japan was built in Suita-mura (where the current Asahi Beer Brewery in Suita is) in 1891.
In 1949, the Asahi Beer Company was founded and in 1987, Asahi Super Dry, a dry beer that proved to be very popular was launched. In 1989, the company name was changed to Asahi Breweries, Ltd. Asahi Breweries, Ltd. now operates 8 breweries in Japan. About 550 people including four Osaka University graduates work at the Suita Factory and affiliated companies.
Osaka University has held a get-together for faculty and staff members at the Suita Factory every summer for the past 60 years. Osaka University Press was established in 1993 with money donated from Asahi Breweries Ltd. Asahi Lab Garden (Machi Lab., 4F, Fukoku Seimei Bldg.) and the Center for the Study of Communication-Design conduct joint research in communication. They also offer different programs on food and health, contributing to the revitalization of the local community.