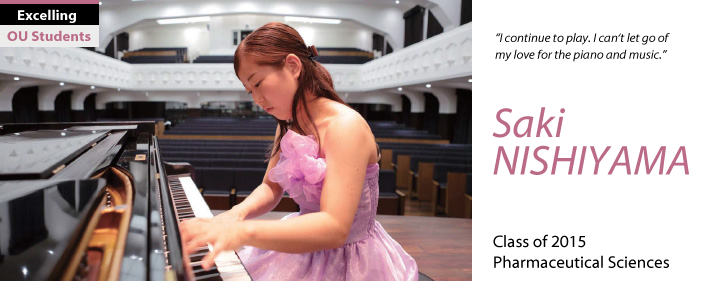 Saki NISHIYAMA, Class of 2015, School of Pharmaceutical Sciences, moves onward and upward in her life, holding fast to her love of the piano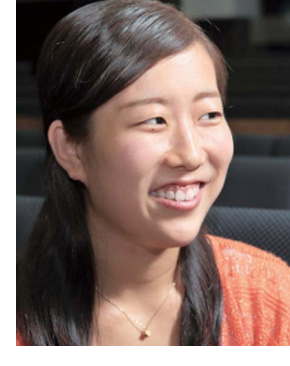 Saki fell in love with the piano at age 9 when she began lessons with a piano teacher (who remains her coach to this day). In little over a year as an elementary school student, she won a local piano competition in Shiga Prefecture. This trend continued in high school where she got good results several times in competitions sponsored by the Piano Teachers' National Association (PTNA). Since then, she has won numerous awards, among them: the national championship for the 2005 International Chopin Piano Competition in Asia, the Encouragement Prize in that same competition, Second Prize in "The Great Wall of China" International Music Competition in 2011, First Prize in the 2012 Amateur Piano Student Competition, and the Outstanding Achievement Award in the Osaka International Music Competition.
In high school, she liked and excelled in biology and chemistry and was interested in studying medicine in university; however, she didn't want to give up her love for the piano. She found herself wondering which path to choose, that to a music college or a comprehensive university. One of her teachers advised her saying, "You can continue to play the piano even if you enroll in a comprehensive university, but you may find it difficult to switch to medicine if you attend a music college." Taking this advice, Saki decided to enter Osaka University and the School of Pharmaceutical Sciences.
When she first entered Osaka University, she thought she might try something else, but ended up joining the Handai Piano Club. She still remembers the shock she felt listening to Rachmaninoff's "Piano Concerto No. 3" played by upperclassmen in the club at that time.
She is pleased that there is always someone in the club willing to play any piece regardless of how difficult it may be. She is also happy to be adding new pieces to her repertoire and has set up a piano performance circle, creating an environment in which not only club members, but also OU graduates and students from other universities can work on improving their recital skills.
Saki Nishiyama participated in the 2012 Christmas Eve One-Coin Concert on the advice of the former club adviser, professor emeritus Satoshi Ogiwara, playing a 70-minute recital on the 1920 Bösendorfer piano in the Auditorium in Osaka University Hall.
Her dream is to one day play with an orchestra. Despite this, she confesses, "I sometimes feel depressed at not being able to do my best in competitions. Actually, I was overwhelmed by the outstanding pianists from China and Korea in the International Chopin Piano Competition in Asia. Nonetheless, I continue to play. I can't let go of my love for the piano and music."
These days, while studying the pharmacy of mental disorders hard, she gives solo piano recitals and continues to participate in a variety of piano competitions, a step that is opening doors for her music career.
Originally published in Japanese, September 2012.