Leading construction equipment manufacturer KOMATSU fascinates visiting students
Many businesses in Japan work with Osaka University in research tie-ups, employment of OU graduates, and more. " Seeing first-hand " is a project that provides current OU students with a visit to the front lines of business. The company visited in this case was Komatsu Ltd .'s factory in Hirakata, Osaka. Two students, SHIJO Yoshinobu, 3rd year, School of Engineering Science and ONO Kyoka, 1st year, School of Foreign Studies, members of the student movie production group OUT+V , visited the factory and made a short movie of their visit. Kyoka interviewed staff while Yoshinobu took a video. (Their movie now plays on campus-wide large "O+PUS" monitors.)
When they first entered the Komatsu Osaka Factory, they seemed to be surprised with its size, some 545,000 square meters, a space about 14 times that of Koshien Stadium, containing 7 assembly plants. Following an explanation about the outline of the plant and a company video, they toured the factory by bus, going through the different assembly plants. 30-ton-class bulldozers and 10~200 ton hydraulic shovels were being assembled at one of the plants. Signs were displayed in several languages, including Russian, for visitors from all over the world. A staff member told Kyoka, a Russian major, "One of our staff at our factory in Russia sounds like a pro when he talks about ballet." In response to the question from Kyoka, "Why are all these machines painted yellow?" the staff member replied, "They are colored in bright yellow for visibility, so that workers can work safely."


Kyoka moved a 200 ton vehicle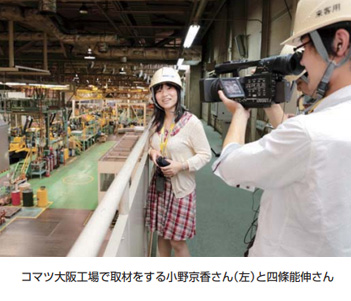 Kyoka operated a hydrolic shovel used around the world, PC 2000, that weighs about 200 tons. The shovel was about 7 meters high and the arm could extend to about 12 meters. Ten people can stand in its 12 cubic-meter bucket capable of scooping up more than 20 tons of soil at a time. Considering that an ordinary automobile weighs about 1.5 tons, this is obviously very large. Yoshinobu took video of Kyoka operating this big vehicle seated in the driver's seat six meters above the ground. Under the instructor's guidance, she raised the bucket and turned the shovel body 360 degrees. Kyoka was thrilled that even a petite woman like her was able to operate such an enormous machine. They told her it's possible to learn how to operate the hydrolic shovel in a week.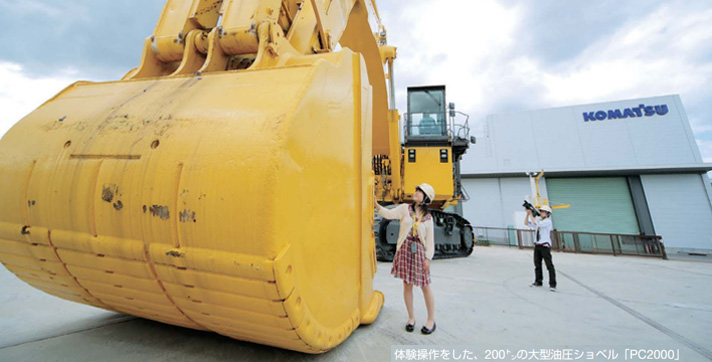 Yoshinobu and Kyoka felt the responsibility and pride of the workers
Finally they visited the Osaka Technical Center, Komatsu's "brain." Unfortunately, they were not allowed to take pictures there. Engaging in constructive dialogue on design and production, workers design and assemble test models and implement many projects there. The two students were granted permission to enter one of the rooms equipped with advanced technology, a virtual reality room. In the room a CG presentation of a virtual full-scale prototype was presented in the cubic space. They were able to experience virtual reality with special 3D glasses. Engineers test products and add refinements in this room.
Even after their tour had ended, they were both still quite excited. Yoshinobu said, "We learned a lot from this eye-opening experience." Kyoka said, "The way the workers worked really impressed me. I could feel the pride, responsibility, and affection they had for their company."
Interviewing with workers who graduated from Osaka University -- Making your college life meaningful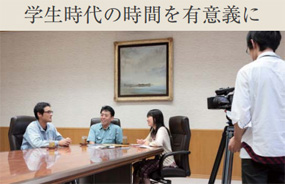 About 100 Osaka University graduates are working at Komatsu Osaka Plant and they are really competent. We were able to interview two workers: UCHIMARU Masatoshi, Construction Machine Development Center I, a 2002 graduate of the Graduate School of Engineering, and HATA Kentaro, Production Technology Development Center, a 2009 graduate of the Graduate School of Engineering. 
What is something you're glad you did when you were an OU student?
UCHIMARU: I traveled alone from the West Coast to the East in the U.S. for a month. It made me strong enough to deal with anything. Workers are constrained by time. So it's good to experience what may seem like a waste of time as a student.
HATA: After I finished writing my master's thesis and before joining this company, I enjoyed skiing by myself and living in my car for a week. A hobby plays an important role in rebooting the mind after entering the world of work.
What is it that makes making construction machinery both interesting and fun?
UCHIMARU: I can say with pride that I made this part of the machine.
HATA: Don't you think construction machines are cute? My specialty is welding. I'm very proud of welding such huge machines.
Do you have a message for OU students?
UCHIMARU: You should consider seriously what you want to do for your career before making a final decision. Using upperclassmen contacts before visiting a company and such is important too.
HATA: Collecting information is important in choosing a company that you want to work for. It's you who will make the final decision. Get to know yourself first so that you won't regret your decision.
Komatsu Ltd. 
Komatsu Ltd. was established in Ishikawa Prefecture in 1921. Komatsu manages their some 175,000 machines via KOMTRAX, a remote control system via communication lines; a GPS and sensors are installed on the machines and their utilization and fuel consumption are centrally controlled, thereby drastically improving the quality of their services.
In 2008, unmanned dump truck operation system, Autonomous Haulage System (AHS), a long-cherished dream for mining industry, was put into practical use. In the same year, Komatsu announced the hybrid hydraulic shovel, PC200-8E0 Hybrid, unprecedented type of construction machinery. Komatsu is promoting manufacturing considering users and environment. 
Komatsu is based in Tokyo. NOJI Kunio, President, is an Osaka University graduate. The number of employees is about 41,000 (including workers of consolidated companies). About 2,300 work in Osaka Plant. Of them, IWASAKI Akio, factory manager, is also an Osaka University graduate. As part of contribution to local communities, every year, Komatsu invites about 1,500 5th graders of elementary schools in Hirakata City and holds events for the general public living in the vicinity. Komatsu Ltd. has been involved in university-business collaboration, holding joint research courses with Graduate School of Engineering, Osaka University.


Note: This is a reprint of the article posted in the Osaka University NewsLetter No. 57 (September 2012).