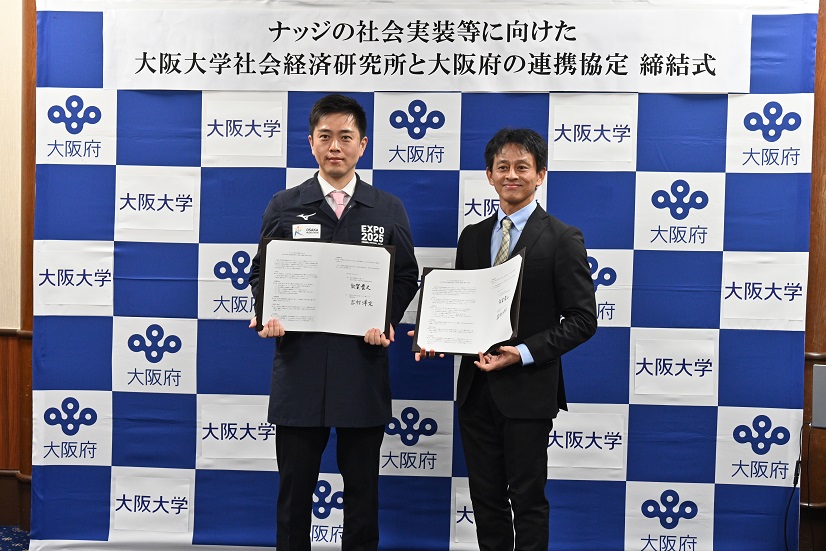 Institute of Social and Economic Research signs Partnership Agreement with Osaka Prefecture -- To promote nudge-based interventions for positive behaviors
A signing ceremony of the Partnership Agreement between Osaka University Institute of Social and Economic Research (ISER) and Osaka Prefecture was held on Wednesday, December 21, 2022 at the Osaka Prefecture office.
The two parties signed the agreement to promote nudging techniques broadly. Nudge is a method to guide people's behavior towards a desired outcome using insights from behavioral science without taking away freedom of choice.
Attenddees included: Governor YOSHIMURA Hirofumi and other officials from Osaka Prefecture, and from OU, Director TSURUGA Takayuki of ISER, Professor OHTAKE Fumio of the Center for Infectious Disease Education and Research (CiDER), Professor HANAKI Nobuyuki of ISER (Director, Research Center for Behavioral Economics (RCBE)), and Associate Professor SASAKI Shu of CiDER.
After a greeting from Governor Yoshimura and Director Tsuruga's greeting and explanation of nudges, they exchanged the signed letters of agreement.

The ceremony was followed by an active Q&A session and it ended with a photo session.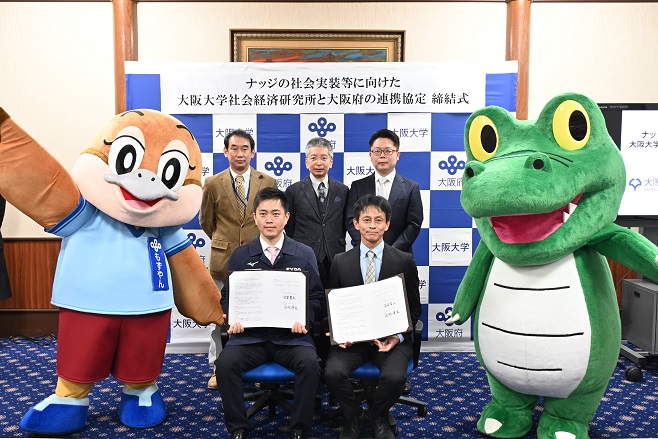 Front row (from left): Mozuyan (Vice Governor in charge of public relations of Osaka Prefecture), Governor Yoshimura, Director Tsuruga, Dr. Wani (Osaka University Official Mascot Character)

Back row (from left): Professor Hanaki, Professor Ohtake, Associate Professor Sasaki