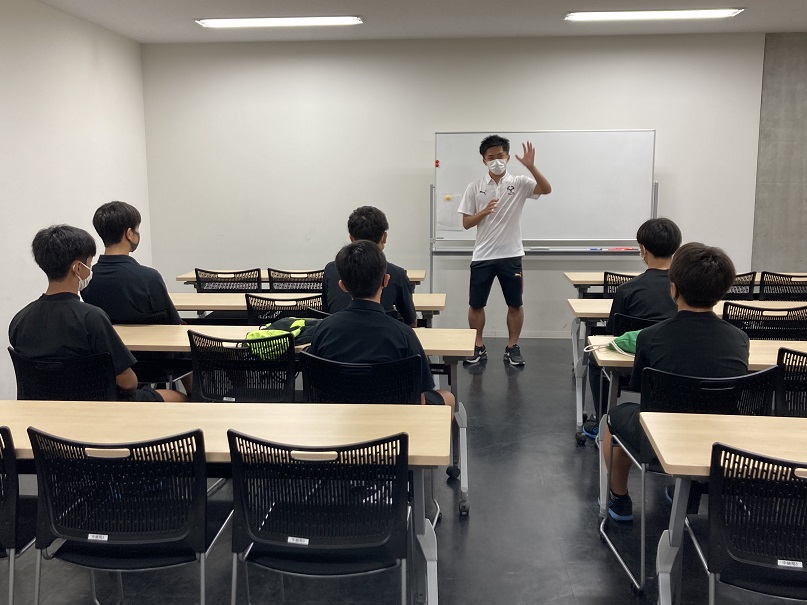 OU offers tutoring to students of the Gamba Osaka's Junior Youth team
Gamba Osaka Co., Ltd. and Osaka University concluded a Friendship Agreement with the aim of promoting education and research, developing regional sports clubs, and contributing to regional society on May 2014.
As part of these endeavors, members of the Osaka University Football Club will offer tutoring to Gamba Osaka Academy students.
Gamba Osaka Academy, under the mottos of "Producing international players" and "Nurturing active players both on and off the pitch," has worked to create an environment where students can study while still being an active football player.
Osaka University Football Club will offer this learning support as part of their Terakoya movement, a cooperation program for non-formal education. The club hopes that building good study habits will shape their future, let them play football with their brain, and show a positive attitude to do even what they are bad at.
Osaka University, which adopts "Live Locally, Grow Globally" as a motto, considers this student-led endeavor as a step to its goal, "Creating a society in which people can find meaning and purpose in life." Thus, the university will assist their efforts of supporting young fellows, who will fly high in the future from the Hokusetsu region, where Osaka University is located, as professional football players.
Moving forward, Gamba Osaka and Osaka University will work with local communities in a variety of fields.
Overview of this activity
- Members of the Osaka University Football Club will offer tutoring to dormitory students of the Gamba Osaka's Junior Youth team
1~2 tutoring sessions every two weeks
For about an hour after students return to the dormitory
The subject areas will be decided after mutual consultation between the tutor and the student
Tutoring will be offered online or in person
Some 20 members of the OU Football Club will participate in this activity, with dedicated 4~5 members teaching one junior high school student