Ceremony held to celebrate the establishment of Graduate School of Humanities
The ceremony to commemorate the establishment of Graduate School of Humanities, which was created by merging two former graduate schools: the Graduate School of Letters and the Graduate School of Language and Culture in April 2022, was held at Osaka University Hall on September 9, 2022.
The ceremony was presided over by Ms. OGAWA Mayu (announcer, OU graduate) and began with performance by Ms. SAITO Emi (pianist) and Ms. CHINO Mizuki (violinist), both of whom have connections with the Graduate School of Humanities.
Following the greeting by Dean of the Graduate School of Humanities Professor MIYAMOTO Yoichi, President NISHIO Shojiro expressed his gratitude to attendees as well as those who contributed the establishment of the Graduate School of Humanities.
Congratulations from Mr. IKEDA Takakuni (Director-General, Higher Education Bureau, Ministry of Education, Culture, Sports, Science and Technology were read by Mr. NISHIJO Masaaki, Deputy Director General, MEXT. Then, Keio University Professor Emeritus OHTSU Yukio extended his congratulations and a congratulatory video message from Ms. IKOMA Kyoko (Representative Director, Kansai Association of Corporate Executives) was shown.
Subsequently, Professor Emeritus KINSUI Satoshi (Director of the Osaka Study Center of The Open University of Japan), who made efforts to establish the new school as advisor to the president, spoke about his experiences during the preparatory stage and his expectations for the new school. Following this, Professor Miyamoto explained the new school's philosophy as well as its current situation, introducing the school's logo.
Finally, Executive Vice President of The University of Tokyo Professor HAYASHI Kaori made an interesting speech entitled "Promotion of Diversity and Inclusion through the Promotion of Humanities and Social Sciences," in which she spoke about about the path universities should take moving forward in consideration of diversity in a global society.
The Graduate School of Humanities will take this ceremony as an opportunity to make a concerted effort to create a new concept of humanities and produce talented individuals that can contribute to the creation of new worth and meet society's expectations.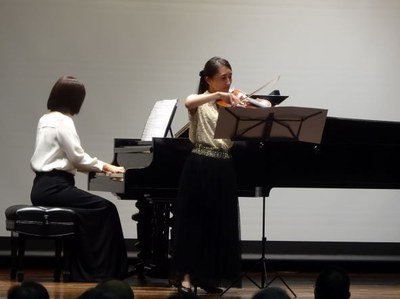 Performance by Ms. Saito and Ms. Chino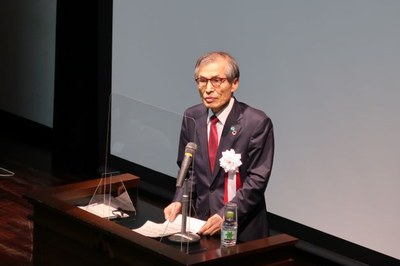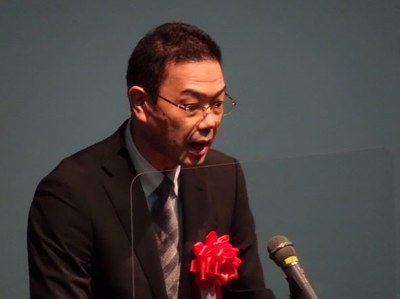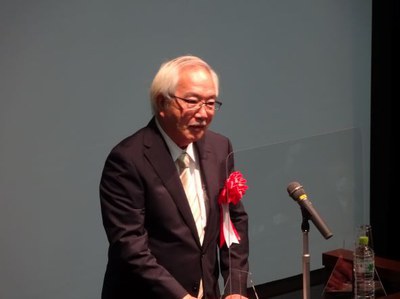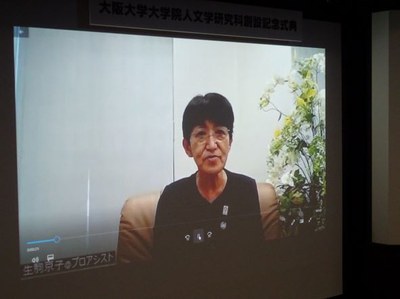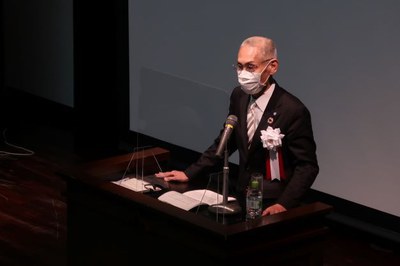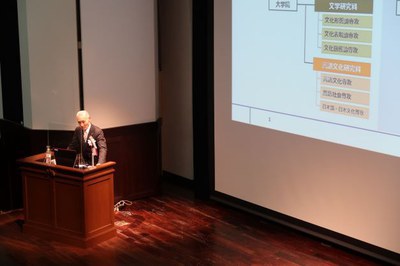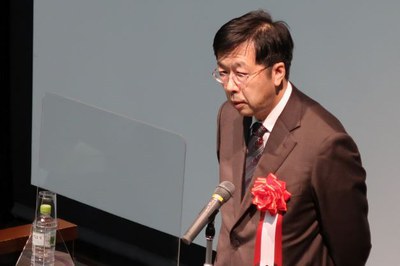 Professor Emeritus Kinsui