2020-2021 Independent Research Project for Undergraduate Students Presentation held
Osaka University held a presentation for the 2020-2021 Independent Research Project for Undergraduate Students at Icho Kaikan on Osaka University's Suita Campus on Friday, April 30.
This project was started in the 2015-2016 academic year in order to raise undergraduate students' awareness of "independent learning" and cultivate their ability to see the true nature of things so that they can be active on the world stage.
In this project, the university supports undergraduate students' creative and ambitious independent research (research in which students to not acquire credits required for graduation) by offering independent research funding and faculty advisors to guide students in their research activity.
In the 2020-2021 academic year, 34 research projects were selected across all 11 undergraduate schools, in which students performed independent research activity over the course of nearly 6 months.
The presentation, in which ten groups gave introductions to their research followed by question and answer sessions, concluded with an award ceremony to praise the accomplishments of these groups.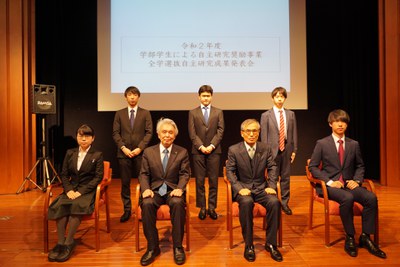 President NISHO Shojiro, Executive Vice President TANAKA Toshihiro, and the students chosen to present their research
Q&A session
Award ceremony