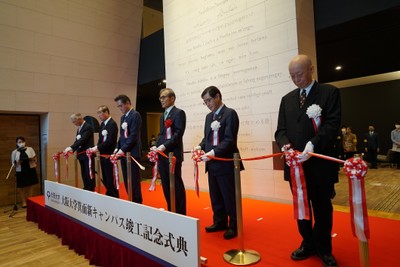 Ribbon cutting ceremony held to celebrate completion of the new Minoh Campus
Osaka University held a ribbon-cutting ceremony at the new Minoh Campus on Thursday, April 1, 2021 to mark its grand opening. Under beautiful blue skies and bountiful blossoms, the ceremony was held with measures to prevent the spread of COVID-19.
At the outset of the ceremony, Osaka University President NISHIO Shojiro delivered a speech on behalf of the organizers. He expressed his outlook by saying, "In this year of celebration for the 90 th anniversary of Osaka University and the 100 th anniversary of Osaka University of Foreign Studies, we'd like to work together with you towards our future by marking this occasion as the starting point for a new chapter of our lives."
Following this speech, School of Foreign Studies Dean TAKEMURA Keiko gave an overview of the facilities on campus, while distinguished guests UESHIMA Kazuhiko (Minoh City Mayor) and MATSUO Hiroki (Deputy Minister of Education, Culture, Sports, Science and Technology) gave congratulatory addresses.
Subsequently, President Nishio and guests cut a ribbon signifying the opening of the new campus.
The new Minoh Campus will promote activity for the coming century as a research and education hub for achieving the university's motto, "Live Locally, Grow Globally," and as a base for the study of world culture and society through learning languages.
Osaka University aims to turn the new Minoh Campus into a "smart campus" by using the latest information and communications technology and promoting robust collaborative research with corporations such as Daikin Industries, Ltd.
The new campus also plans to hold events to introduce the diverse languages and cultures of the world to local citizens at Minoh City Lifelong Learning Center and Culture Hall, both of which are adjacent to the campus.
The new Minoh Campus, a place of abundant possibilities, will leap forward together with local communities.

Osaka University President NISHIO Shojiro

Minoh City Mayor UESHIMA Kazuhiko

Deputy Minister of Education, Culture, Sports, Science and Technology MATSUO Hiroki

School of Foreign Studies Dean TAKEMURA Keiko