Opening ceremony held for Osaka University Global Village Tsukumodai
On Wednesday, October 14, 2020, under clear autumn skies, the opening ceremony for Global Village Tsukumodai was held under the sponsorship of Osaka University, Panasonic Homes Co., Ltd., Gojinsha Keikaku Kenkyujo, Inc., and Matsumura-gumi Corp. Relevant individuals from each organization were in attendance for the ceremony, which was held with measures in place to prevent the spread of COVID-19.
Under the banner of accepting diverse students and instructors, Osaka University is striving to increase the number of its international students.
Thus, under its global village concept, the university has constructed Global Village Tsukumodai, which consists of international dormitories, staff dormitories, and adjunct private facilities, on the site of the former Tsukumodai dormitory. Global Village Tsukumodai consists of 300 rooms in the student dormitory and 400 staff dormitory units, making it the largest international dormitory among national universities in Japan.
In this project, under a private finance initiative (PFI), a consortium composed of the 3 private companies led by Panasonic Homes Co., is engaged in the construction, maintenance, and management of the Global Village.
The ceremony began with greetings from President NISHIO Shojiro on behalf of organizers. He spoke about his prospects for the future, saying "OU will create new interactions with individuals in the region by holding various exchange programs in this international environment.
The university will evolve into a global university that is open to the world by improving the environment for nurturing diversity beyond culture, language, and gender differences."
His speech was followed by greetings from guests GOTOH Keiji (Mayor, Suita City) and YAMAZAKI Masao (Director-General, Department of Facilities Planning and Disaster Prevention Administration, Minister's Secretariat, Ministry of Education, Culture, Sports, Science and Technology), as well as INOUE Jiro (Representative Director/President, Panasonic Homes), who was in attendance as a representative of the companies related to this project.
Following this, a ribbon cutting ceremony was held by President Nishio, guests, and representatives from the private companies.
Moving forward, Global Village Tsukumodai will play a role not only as a housing facility, but also as a hub for global human resources development. The Global Village will serve as educational facilities for promoting cross-cultural exchange and interaction with the local community by providing unique educational programs, such as Tsukumodai Seminars, Cross-Cultural Understanding Programs, and Co-Creative Workshops.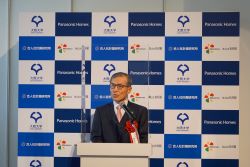 Osaka University President Nishio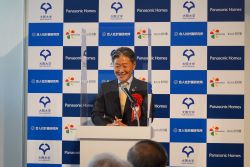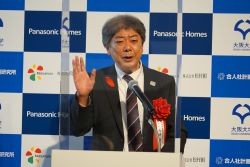 Director General Yamazaki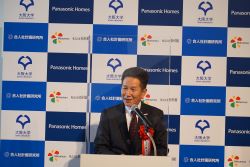 Representative Director and President Inoue