Post-COVID-19 "new normal": cafeterias on campus reopen with preventive measures
Most cafeterias and restaurants on OU campuses reopened this week. In order to reduce crowds during the lunch hour, Osaka University altered its class timetable beginning from June 1, 2020, extending the lunch hour from 60 to 90 minutes.
Cafeterias and restaurants have taken precautionary measures, such as placing hand sanitizers at entrances, putting partitions between seats, and shortening business hours.
Since students are currently taking online classes and are not allowed to participate in extracurricular activities, only a handful of people are seen on campus. However, OU is making every effort to prepare for the "new normal" after COVID-19.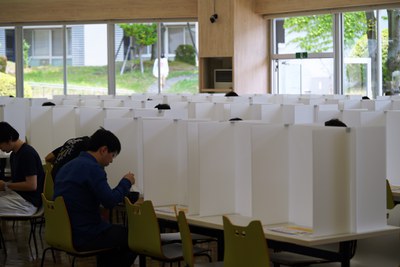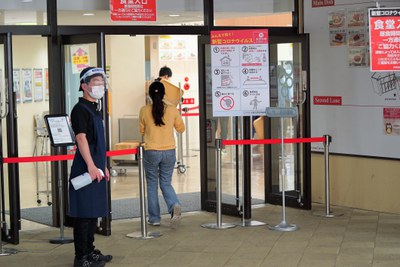 A university COOP staffer sprays visitors with disinfectant at the cafeteria entrance (School of Engineering, Suita Campus)
For information regarding business hours of restaurants and stores on campus, click here .