11th Osaka University Alumni Reunion in Tokyo held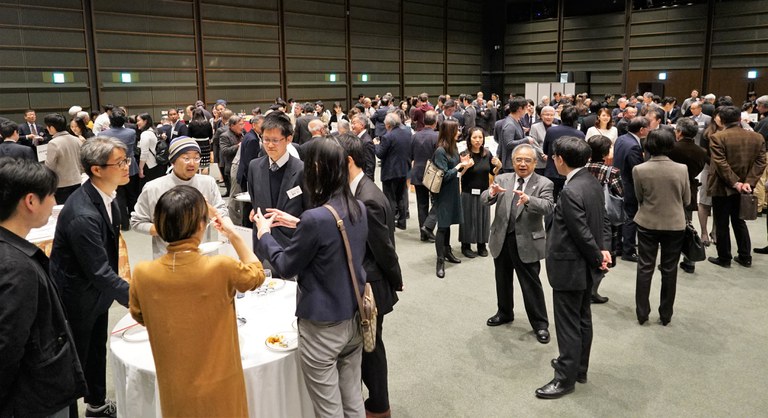 The Osaka University Alumni Reunion in Tokyo was held on December 7, welcoming a large number of alumni and other attendees.
Part 1 of the reunion, the ceremony and lecture, started with an update on Osaka University by President NISHIO Shojiro, which was followed by the greeting from KISHIMOTO Tadamitsu (President, Osaka University Federation of Alumni Associations; 14th President of Osaka University).

President Nishio provides updates on OU

President Kishimoto greets attendees
KAWAMURA Hiromi (Graduate, School of Human Sciences/PR Secretary, Tokyo Organising Committee for the Olympic and Paralympic Games (TOCOG)) delivered a lecture entitled "Latest News on the Tokyo 2020 Olympic and Paralympic Games – How Mega Sports Events Influence Society."
Ms. Kawamura introduced some endeavors new to the 2020 Tokyo Games, such as the introduction of robots that provide assistance to workers and attendees at the Games and the production of medals from recycled cellphones, saying that the Games aim to realize a sustainable society by recycling resources and providing many people with opportunities to share experiences.
In addition, Executive Vice President KANEDA Yasufumi introduced the activity taking place at the Osaka University Co-Creation Bureau.
Part 2 of the reunion, the social gathering kicked off with a toast from NIKAWA Kiyoshi (Chair, Kanto Division, Osaka University School of Engineering Science Alumni Association), with those in attendance rekindling old friendships and even making some new ones while making for a lively venue
YAMAMOTO Kahoko (Graduate, School of Foreign Studies/Sportscaster, NHK Osaka) served as the MC in both parts of the alumni reunion, providing a light and lively atmosphere to the venue from start to finish.
Finally, the Osaka University Cheerleading Party took the stage for a song and dance performance to wrap up the reunion.
We'd like to thank everyone who joined us for this year's alumni reunion, and we hope to see you next year as well.

MC YAMAMOTO Kahoko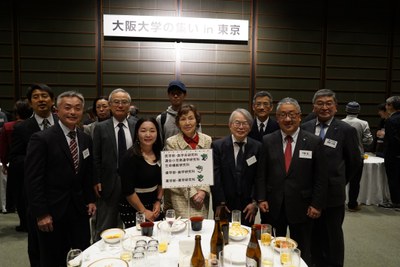 Some scenes from the social gathering

A performance by the Osaka University Cheerleading Party