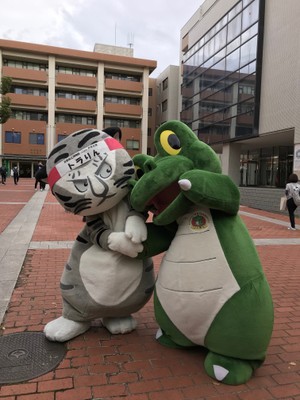 Kyoto National Museum's Torarin visits OU
On Friday, October 18, 2019, Torarin, the official mascot character of Kyoto National Museum, visited Osaka University to promote the Campus Members System.
Torarin greeted the students during lunch time on the Toyonaka Campus, taking commemorative photos along with OU's Dr. Wani while giving an introduction to the Campus Members System.
Campus Members is a system in which 13 museums and art museums in the Kansai area provide OU students, faculty, and staff members the opportunity to get a closer look at culture, art, and history for free or at reduced admission fees simply by showing their student/faculty ID.
OU students, faculty, and staff members can get a 500 yen discount for admission to the special exhibition currently on display at the Kyoto National Museum entitled "The Thirty-Six Immortal Poets: Elegant Arts of the Classical Japanese Court."
Click here for a list of institutes in the Campus Members system.
Kyoto National Museum