Osaka University Alumni Reunion in Kagawa held
On Saturday, July 27, the Osaka University Alumni Reunion in Kagawa was held with many alumni and other individuals in attendance. High school students from the area who attended the Osaka University Information Session held before the alumni reunion were also in attendance.
Announcer YOSHIMOTO Tsukasa (2005 graduate, School of Engineering) served as MC for the event, and after an update on Osaka University from President NISHIO Shojiro, YAMANISHI Kouichi (Chairman, BIKEN Group; Physician/1972 graduate, Graduate School of Medicine) gave a lecture entitled "Infection Control through Vaccines."
During the lecture, Dr. Yamanishi introduced topics ranging from the relationship between vaccines and death rates in smallpox, to infectious diseases all around us such as influenza, emphasizing the importance of vaccines and other preventative measures for infectious diseases through an introduction to new and re-emerging infectious diseases. In addition, through an explanation of shingles using various images, Dr. Yamanishi gave an introduction to the world-first, Japan-made chicken pox vaccine developed by the BIKEN Group.
Finally, Dr. Yamanishi spoke about the establishment of the BIKEN Group, which was the then-revolutionary university-initiated venture to produce and develop vaccines.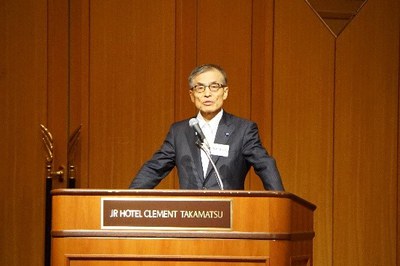 President Nishio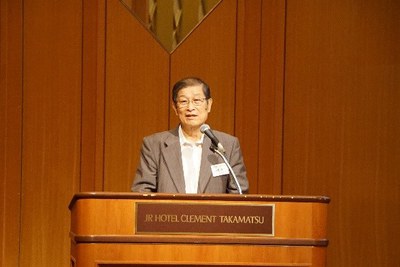 A lecture by YAMANISHI Kouichi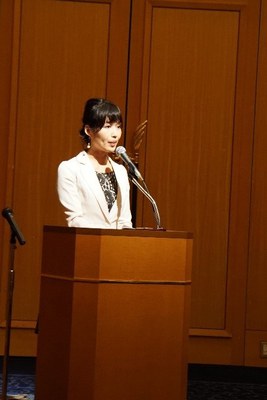 MC YOSHIMOTO Tsukasa

At the social gathering, a toast was given by Chairman SANO Tadashi of the Kagawa Ichokai (1973 graduate, School of Engineering), with those in attendance rekindling old friendships and even making some new ones in a lively, pleasant atmosphere. In addition, volunteers from the Kagawa Ichokai livened the venue with their resounding rendition of the dormitory song of the former Osaka High School.
| | | |
| --- | --- | --- |
| A toast by Chariman Sano | | A chorus performance by volunteers from the Kagawa Ichokai |
| | | |
| Scenes from the social gathering | | |