130 Individuals in Attendance at Osaka University Leaders Forum
On Friday, February 8, the Osaka University Leaders Forum was held at Osaka University Hall on the Toyonaka Campus, with some 130 individuals in attendance.
This forum is held each year in order for graduates of Osaka University and Osaka University of Foreign Studies currently active on the front lines of their respective fields to build networks and deepen bonds with their alma mater. This year marked the 7th holding of the Leaders Forum.
In the forum, President NISHIO Shojiro talked about how things were going at Osaka University, and then Executive Vice President YOSHIKAWA Hideki provided an introduction to Osaka University Foundation for the Future.
Following this, SUENOBU Noriko (1991 graduate, Graduate School of Pharmaceutical Sciences/Corporate Officer in charge of Group Research and Pharmaceutical Center, Pola Orbis Holdings Inc.) gave a speech entitled "The Bravery to Take the First Step - Being True to Myself" in which she gave some anecdotes about developing the first anti-wrinkle quasi-drug cosmetic in Japan to be approved by the Ministry of Health, Labour and Welfare as well as important things she learned during its development, all the while making the audience smile with her storytelling.
In the social gathering following the Leaders Forum began with a toast from FURUKAWA Minoru (1966 graduate, School of Economics/Senior Corporate Adviser, Hitachi Zosen Corporation), alumni of all ages, fields, and schools enjoyed friendly exchange with one another.
Osaka University plans to hold more events in the future to further promote exchange between Osaka University alumni. We hope to see you there.

President Nishio speaks about recent events at the university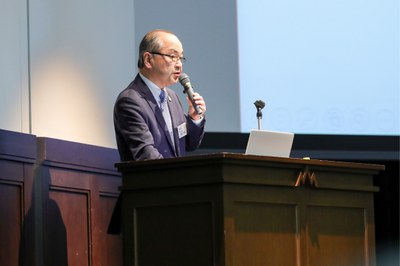 An activity report by Executive Vice President Yoshikawa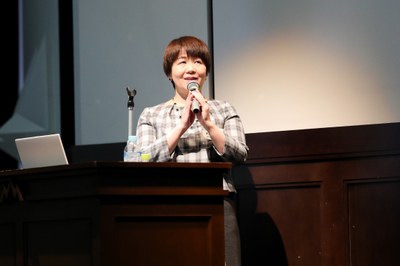 A speech by Ms. Suenobu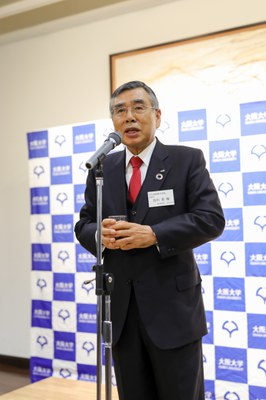 A toast by Mr. Furukawa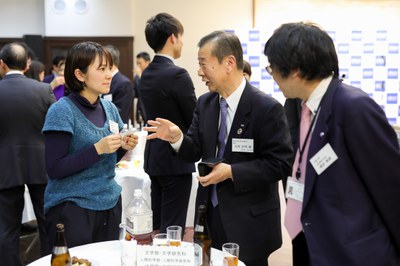 A scene from the social gathering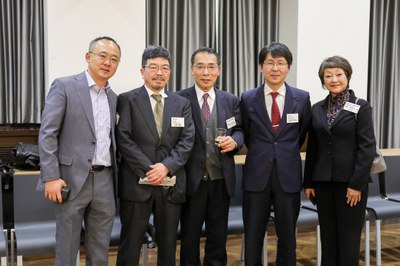 A scene from the social gathering