10th Osaka University Alumni Reunion in Tokyo held at the Tokyo Interntional Forum for the very first time!
On Saturday, December 1, 2018, the 10th Osaka University Alumni Reunion in Tokyo was held for the first time at the Tokyo International Forum. Some 550 members of the OU Family were in attendance, primarily graduates of Osaka University and Osaka University of Foreign Studies residing in the Tokyo area and university-related individuals.
During the ceremony in part 1 of the reunion, President NISHIO Shojiro spoke about the present situation at OU, covering topics such as Osaka University being named a Designated National University and remarkable achievements by students. Following this, KISHIMOTO Tadamitsu (President, Osaka University Federation of Alumni Associations; 14th President of Osaka University) greeted attendees.

President Nishio speaks about the present situation at OU

President Kishimoto greets attendees
OU-born professional a cappella group INSPi also made an appearance for a live stage performance. The group wowed attendees with their beautiful voices and magical harmony, performing 7 numbers including their 2005 rendition of " Kono ki nan no ki? " featured in Hitachi commercials.
After this, Makthy, a group in the Osaka University A Cappella Club "inspiritual voices," teamed up with INSPi to deliver a rendition of "Ue o Muite Aruko" ("I Look Up As I Walk", alternatively titled "Sukiyaki") that enveloped the venue in an intoxicating melody.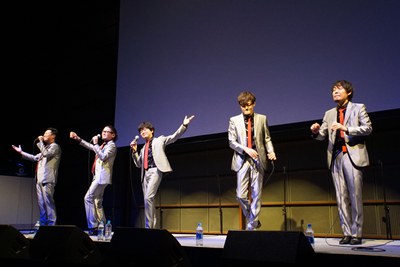 A live performance by INSPi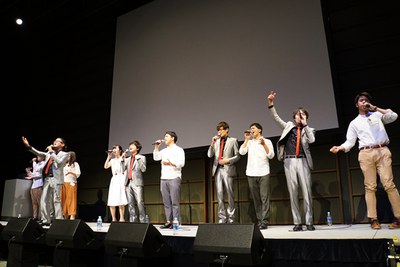 INSPi teams up with Makthy
In the final portion of part 1 of the reunion, KOHORI Yasuo (Director, Gakushikai) delivered an introduction about Gakushikai, a sponsor of this reunion.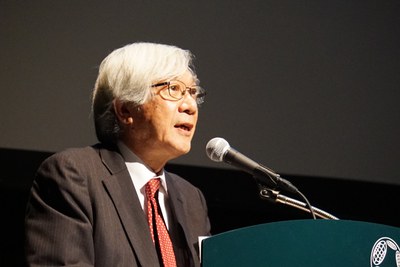 Director Kohori delivers an introduction to Gakushikai
The social gathering in part 2 was kicked off by a toast from TAKEUCHI Noriko (President, Congress Corporation; 1986 graduate, School of Human Sciences). Those individuals celebrating 10 years since their graduation from Osaka University were given a special invitation to this alumni reunion, with some 50 from this group in attendance, rekindling old friendships and even making some new ones while making for a lively venue. Deans of schools and graduate schools were also able to deepen their relationships with alumni at the reunion.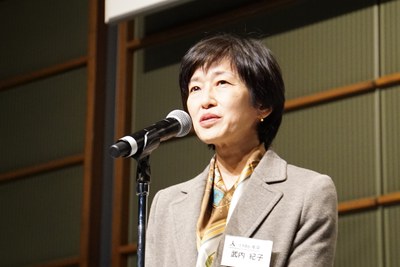 A toast by Ms. Takeuchi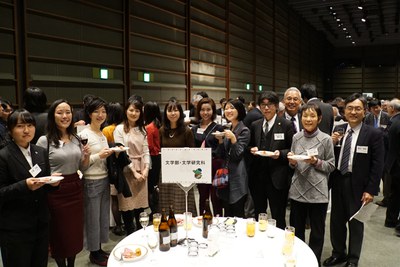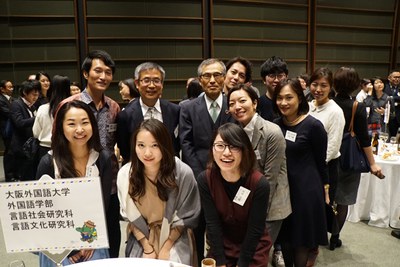 A scene from the social gathering
In addition, signed INSPi CDs were on sale at the reunion, with attendees able to get commemorative photos taken with the group as well.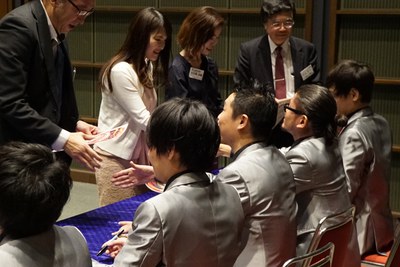 INSPi is selling and signing CDs at the reunion
(A portion of the proceeds will be donated to Osaka University Foundation for the Future)
Finally, the Osaka University Cheerleading Party took the stage for a song and dance performance to wrap up the reunion.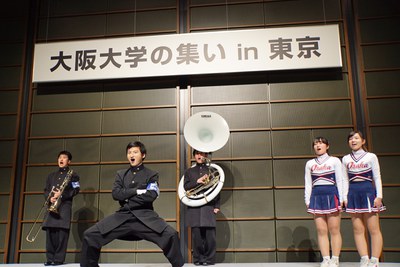 A song and dance performance by the Cheerleading Party