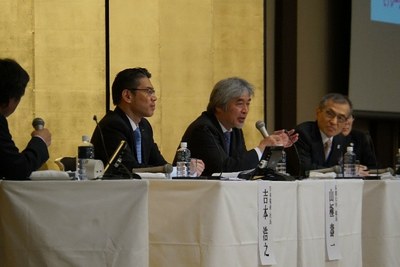 Kobe University, Kyoto University, and Osaka University Joint Symposium held
On Friday, October 19, the Kyoto University, Osaka University, and Kobe University Joint Symposium (sponsored by Nikkei Shimbun Inc. and the Japan Center for Economic Research) was held in Kita-ku, Osaka, to which some 400 individuals from the fields of industry and academia were in attendance. This symposium has been held as part of the "Kansai Economist Meetings," now in its 3rd year, with the previous symposium held in 2017.
Presidents from the 3 universities and representatives from the industrial realm had an active discussion about endeavors and challenges in industry-academy collaboration, on the subject of "Innovative Human Resources and University Collaboration that Corporations Need."
At the start of the symposium, SAKAMOTO Hironobu, Managing Executive Officer, representative from Nikkei Shimbun Inc. Office in Osaka, spoke about the significance of the symposium and his hopes for the revitalization of the Kansai area through industry-academia collaboration. Following this, YOSHIMOTO Hiroyuki, President of Nidec Corporation, spoke about the company, its industry-university collaboration efforts, and the innovative human resources that international corporations need.
Later Kyoto University President YAMAGIWA Juichi, Kobe University President TAKEDA Hiroshi, and Osaka University President NISHIO Shojiro spoke about endeavors and features of industry-university collaboration at their universities.
During the panel discussion, participants exchanged opinions on nurturing innovative human resources and the role of industry-university collaboration. As a requirement for innovative human resources in demand by corporations, President Yoshimoto said, "In addition to expertise in their field, they must also have a broad perspective, general knowledge, and openness to accept diversity regardless of field or nationality." President Yamagiwa called for cooperation with corporations to improve internships to nurture people with outstanding specialist capabilities. President Nishio also asked corporations to adopt people with doctoral degrees nurtured by universities. In addition, President Takeda also urged corporations to employ a definite proportion of doctorate holders. Participants also shared opinions about industry-university collaboration, including the role of internships.
Finally, the universities and corporations reaffirmed their commitment to build a new framework of collaboration that utilizes the strengths of each university and corporation in order to create innovation from Kansai.