13th Osaka University Homecoming Day held
On Monday, April 30, some 550 members of the OU family, including alumni, current students, parents, guardians, and faculty members, attended the 13th Osaka University Homecoming Day. The number of attendees at this year's Homecoming Day was the largest in the event's history!
In part 1 at Osaka University Hall, "The New Wave Jazz Orchestra," a big band group in the Osaka University Light Music Club SWING, held the opening performance for the event. Following this, a talk about current events at OU was held by President NISHIO Shojiro, and attendees were greeted by the new Osaka University Federation of Alumni Association President KISHIMOTO Tadamitsu (former President of Osaka University), who took the position on the day of the event.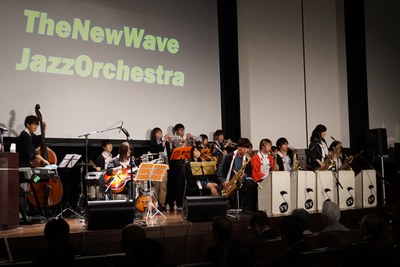 | | |
| --- | --- |
| President Nishio | President Kishimoto |
Later, a jazz concert by professional saxophone player HIBINO Norihiko (1996 graduate, School of Human Sciences) and The New Wave Jazz Orchestra wowed attendees. This performance by a professional saxophone player was a first for the event. In his talk with MC and Kansai Telecasting Corporation Announcer SEKI Junko (1988 graduate of the School of Human Sciences), Mr. Hibino said, "I'm honored to be able to perform at OU (for this kind of event)."
Finally, performances by the Osaka University Cheerleading Party and the Osaka University Festival Dance Circle MADANI fired up the venue and showed a passionate, energetic side of OU students.
| | |
| --- | --- |
| | Ms. Seki (left) and Mr. Hibino |
| | |
| --- | --- |
| | |
The venue shifted to Cafeteria Kasane in the Student Union Building for the social gathering in part 2, which began with a toast from President HARUTA Seishi (1989 graduate of the School of Human Sciences) of mow-mow farm. There were tasting sessions for chou rusk (a pastry dessert) from President Haruta of mow-mow farm and sake from MORIKI Rumiko (1983 graduate of the School of Pharmaceutical Sciences) of Moriki Brewery, both of which went very quickly. At the annual raffle, the lucky winners were able to take some commemorative photos with President Nishio, making for a lively, enjoyable afternoon.。
| | |
| --- | --- |
| A toast from President Haruta | |
 
In addition, a number of elementary and junior high school students tried their hand at building the Lego® creations of their dreams in the joint project "OU Lego® Club - Hands-on Lego® Workshop."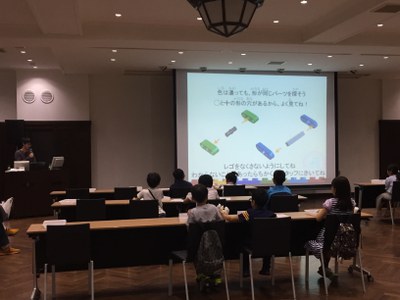 Thank you for attending this year's Homecoming Day. We hope you will join us again next year!