Thai Osaka University Alumni Workshop and Alumni Party
On Saturday, March 3, 2018, the Thai Osaka University Alumni Workshop and Alumni Party were held at Hotel Grand Center Point Terminal 21 in Bangkok, Thailand. Seventy-two individuals were in attendance, including those who had studied at Osaka University, alumni, and their families. The Thai Osaka University Alumni Party is held every year, but this was the first time that the Alumni Workshop, regarding industry-university collaboration, was held.
In the Alumni Workshop in Part 1, following greetings by Professor Itthichai Arungsrisangchai (Thai Osaka University Alumni Club Chairman) and Osaka University Vice President Genta Kawahara, lectures regarding industry-university collaboration were held by Mr. Tsuyoshi Inoue (Executive Managing Director of the Japanese Chamber of Commerce in Bangkok), Professor Worawet Suwanrada (Dean, Faculty of Economics, of Chulalongkorn University), Associate Professor Wiwat Ruenglertpanyakul (Principal, Mahidol Wittayanusorn School), and Professor Takeharu Nagai (Associate Executive Director at Osaka University). There was also a consultation session held with Japanese corporations operating in Thailand.
| | |
| --- | --- |
| Chairman Arungsrisangchai | Executive Vice President Kawahara |
| Executive Managing Director Inoue | Dean Suwanrada |
| Principal Ruenglertpanyakul | Associate Executive Director Nagai |
At the Alumni Party in Part 2, following greetings by Chairman Arungsrisangchai and Mr. Takayuki Hirai (Secretary-General, Bangkok Branch of the Alumni Association of Osaka University School of Foreign Studies and Osaka University of Foreign Studies, known as "SAKUYAKAI"), attendees were treated to a Game Session, which really energized the venue. The event ended on a pleasant note, with attendees enjoying friendly conversation with classmates and friends both old and new.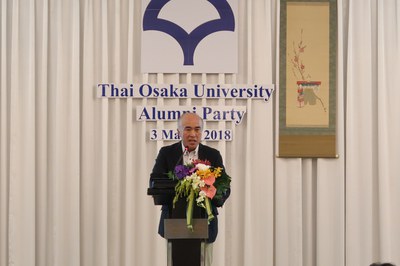 Secretary General Hirai