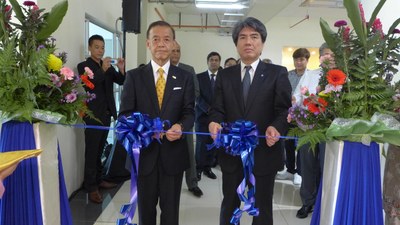 Opening Ceremony for Osaka University ASEAN Campus Office held in Brunei
On Thursday, February 22, the opening ceremony for the Osaka University ASEAN Campus Office was held in Brunei Darussalam, with 7 individuals from Osaka University in attendance, including Executive Vice President KAWAHARA Genta.
Also in attendance was H.E. Ambassador Motohiko KATO of the Embassy of Japan in Brunei Darussalam, who gave a congratulatory address in which he offered his hope for further strengthening of cooperative relationship in education and research between Brunei and Japan with the opening of this office.
Following this, a ribbon cutting ceremony was held to commemorate the establishment of the office, after which Executive Vice President Kawahara signed the office plaque. It is hoped that this newly established office can serve as a hub for active exchange with universities in Brunei and the Association of Southeast Asian Nations (ASEAN).
| | |
| --- | --- |
| | |