2017-2018 SHIBA Ryotaro Memorial Academic Lecture held
On Saturday, June 17, the Osaka University SHIBA Ryotaro Memorial Academic Leture was held at Sankei Hall Breezé in Kita-ku, Osaka city. This lecture is held every year to celebrate the achievements of nationally-renowned writer and Osaka University of Foreign Studies (now School of Foreign Studies, Osaka University) graduate SHIBA Ryotaro. The topic for this 20th memorial academic lecture was "SHIBA Ryotaro in the Digital Age," with some 700 individuals in attendance.
After a reading of the first chapter of SHIBA Ryotaro's " Ryoma ga Yuku ," President Nishio gave attendees a greeting based on the topic of the memorial lecture.
President NISHIO Shojiro's greeting
In part one of the lecture, Professor KASHIMA Shigeru (French literary scholar/Professor, Meiji University) gave a lecture enttield "Reading SHIBA Ryotaro from a perspective of family typology," in which he analyzed individuals who played key roles in the Meiji Restoration as well as SHIBA's works, such as SAKAMOTO Ryoma and SAIGO Takamori, based on Emmanuel Todd's family dynamics, giving attendees a new way of reading and interpreting SHIBA Ryotaro's works.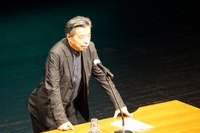 Professor KASHIMA Shigeru gives a lecture in Part 1
Following this, a "BiblioBattle," in which students discussed their selected works by SHIBA Ryotaro, was held. The 5 students who made it through the preliminary rounds of this BiblioBattle introduced their selected works (novels) and held a Q&A session with OU students, after the votes of some 700 individuals in attendance were tallied to see which student was the winner.
A scene from the BiblioBattle in Part 1. The individuals in the front of the photo are OU students who participated in the Q&A session.
In Part 2, rakugoka [a comic story teller] KATSURA Nanko joined the lecture in a discussion with Professor Kashima on SHIBA Ryotaro. The two spoke passionately about their favorite works of Mr. Shiba, with Mr. Katsura selecting " Niwaka - Naniwa Yukyoden " and Prof. Kashima choosing to speak about " Moeyo Ken ." Afterwards, the two had a witty conversation about the difference between comedy in Japan and in the Americas and Europe, to the delight of the audience.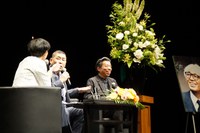 The discussion in Part 2 (Mr. KATSURA Nanko and Prof. KASHIMA Shigeru)
Finally,k the results of the BiblioBattle were announced, with NISHIHATA Hiroki (3rd year, School of Foreign Studies) taking home 1st place with his introduction of " Kukai no Fukei " and runner-up going to INADA Hiroko (1st year, School of Letters), who selected " Niwaka - Naniwa Yukyoden ." At the award ceremony, President Nishio presented the commemorative plaques to Mr. Nishihata and Ms. Inada, while Sakuyakai Chair SHOTOKU Yukio presented the awards.
This lecture was hosted together with Sankei Shimbun, with support from the SHIBA Ryotaro Memorial Financial Group and Sakuyakai (Osaka University School of Foreign Studies/Osaka University of Foreign Studies Alumni Association).
| | | |
| --- | --- | --- |
| BiblioBattle Champion NISHIHATA Hiroki | | BiblioBattle Runner-Up INADA Hiroko |
| | | |
| | | |
| The 5 BiblioBattle Finalists with President NISHIO and Sakuyakai Chair SHOTOKU | | |