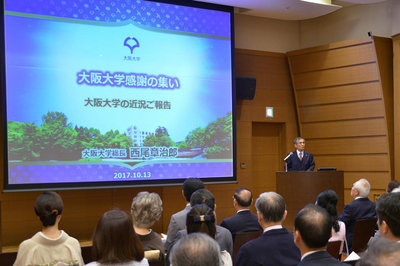 "Thank YOU Gathering" held at Osaka University
Osaka University held a Thank YOU Gathering at its Nakanoshima Center on Friday, October 13. Donors who had made major contributions to Osaka University Future Funds were invited to the "Thank YOU Gathering" for a special showing of appreciation. Some 90 individuals were in attendance at the gathering's two sessions: a report session and a social hour.
In the report session, President NISHIO Shojiro informed those in attendance of recent events at OU. He was followed by Executive Vice President YOSHIKAWA Hideki who spoke about the activity of Future Funds. After that, Professor MATSUMURA Naohiro from the Graduate School of Economics delivered a talk.
Additionally, students who had received support from Future Funds delivered poster presentations in the social hour. All in all, the Thank YOU Gathering was a success, becoming an event to strengthen the bonds between donors and Osaka University.