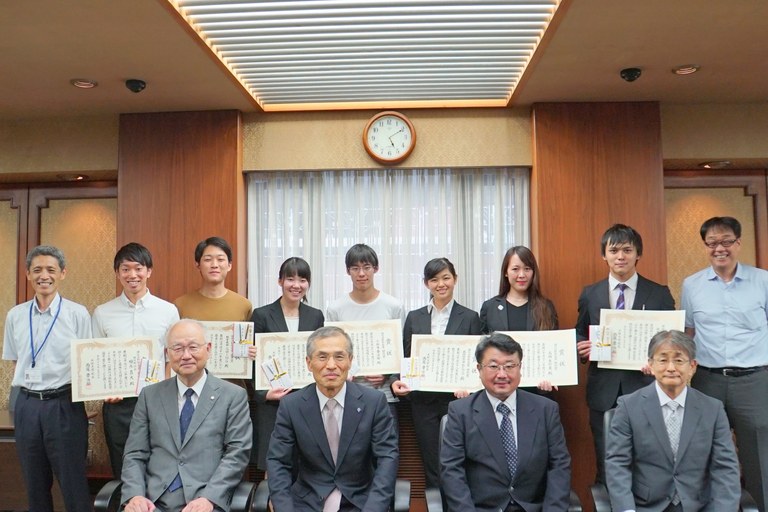 Superstar Students! Award Ceremony for the 18th Presidential Awards for Extracurricular Activities
The award ceremony for the 18th Presidential Awards for Extracurricular Activities was held on Thursday, July 20, 2017. Presidential Awards for Extracurricular Activities have been awarded to recognize outstanding extracurricular activities and invigorate and improve student extracurricular activity participation since their inception in 2000.
Thirty-one nominations were received for these awards, including 8 from sports-oriented clubs, 11 from culture-oriented clubs, and 12 from other groups and individuals. The awardees were selected as follows.
Outstanding Achievement Award

Tennis

HIGUCHI Naoko (3rd year, School of Science)

Winner of the Kansai Student Tennis Tournament in women's singles

Baseball

FUKUNAGA Masahiro (5th year, School of Dentistry)

Chosen as an infielder for the All-Star Team in the Kinki Baseball League, which went on to win the All-Star tournament for the first time in 12 years

Light Music SWING


ANDOH Tatsuya (tenor sax) took the award for Best Soloist at the Student Band Awards


surume

Winners of the EDGE INNOVATION CHALLENGE COMPETITION 2017, supported by MEXT

Special Recognition Award

Shorinji Kempo

EZURE/SUEMUNE pair won the 2nd-dan Men's division of Kumiembu [paired form] at the National Tournament , and advanced to the world tournament

English Study Society (ESS)


Grand finalists at Tokyo NEAO 2016. Advanced to the finals of the English parliamentary debate world tournament.


TAKAHASHI Asami (4th year, School of Human Sciences)

Promotes the establishment of branches in various nations as Secretary-General of University Student Chamber International

OU Drone Development Team

Developed technology to exchange batteries between multicopters, a world first
Note: Larger versions of each photo below can be viewed by clicking directly on the images.