PROSPECTUS 2017 released with an all new design!
PROSPECTUS is published in English as an introduction to Osaka University for international students and researchers.
The design of PROSPECTUS has been heavily revised to decrease the weight of the brochure, making it easier to carry and distribute.
The concept of this redesign is that of a junihitoe , or twelve-layered kimono, which brings a Japanese taste to the design.
At the front of PROSPECTUS 2017 is Osaka University's motto of "Live Locally, Grown Globally" written in the 25 different languages, representing the 25 languages that students can study at the School of Foreign Studies. The information found inside has been narrowed down and various photos have been incorporated in order to convey information in both an eye-catching and impactful way.
In coordination with the official Instagram account of Osaka University, "innovation," "research," and "basic information about the university" are introduced using variants of the hashtag #DOITALL.
You can view the new PROSPECTUS 2017 by clicking here .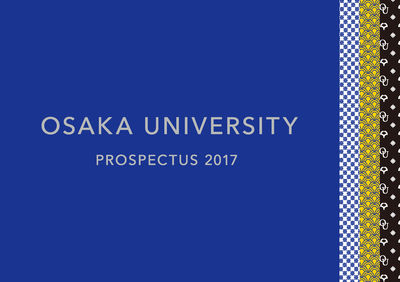 Cover designed in the image of a junihitoe (twelve-layered kimono)



Various elements of the university are introduced using eye-catching photos

Inquires about PROSPECTUS 2017
International Student Affairs Division, International Affairs Division, Department of International Affairs
TEL: 06-6879-4408