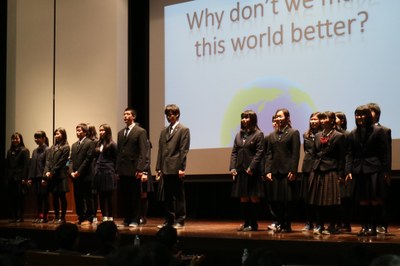 Global Leaders High Schools (GLHS) Joint Workshop held
On Sunday, February 12, the Global Leaders High Schools (GLHS) held a joint workshop at Osaka University Hall under the sponsorship of Osaka Prefectural Board of Education and Osaka University.
The objective of the workshop was for students belonging to GLHS to learn from each other through conducting research in the arts and sciences and by making presentations. It also aimed to increase students' motivation for learning, and their ability to problem-solve and make presentations through such activities. This was the fifth workshop held since Osaka University and the Osaka Prefectural Board of Education began their cooperative effort in 2013.
Following the greeting from Board of Education Director WADA Yoshihiko, Executive Vice President KOBAYASHI Tadashi expressed his hope, saying, "I look for you to develop by thinking about what it means to be able to participate in this joint workshop as a student of a GLHS and the various expectations for the future of each and every one of you.
After student representatives explained in English about subjects they had selected, they made presentations in both Japanese and English. The first presentation was by Osaka Prefectural Ibaraki Senior High School on "The Growth Process and Morphological Changes of Silver Crystals in Solution," in which students made a presentation on their observations of ion diffusion and the interaction between metals and metallic cations in the growth process of silver crystals formed in aqueous silver nitrate. Students' presentations have improved year by year, and they were highly praised by those in attendance.
Following the presentations, GLHS students who participated in training in the UK. talked about their experience. Students introduced their efforts to grasp hints on how to be successful as a global leader in international society through taking part in classes at world-class universities such as the University of Cambridge and interacting with university students and people in the area.
During the review and award ceremony following the presentations, GLHS Evaluation Council Member, ASANO Ryoichi (Professor, Hyogo University of Teacher Education) gave an inspiring message, saying, "I want you all to be able to speak about the significance of the research you undertook in your own words." SHINDO Shuichi (Associate Executive Director, Osaka University) also gave a message to students: "I want you all to continue to have an interest in scholarship and be able to make presentations in foreign languages." Finally, awards were presented to Tennoji Senior High School, Kozu Senior High School, and Toyonaka Senior High School, who were selected as the most outstanding school at the workshop.
A scene from the report on training in the UK





Executive Vice President KOBAYASHI greets attendees

Board of Education Director WADA presents the awards