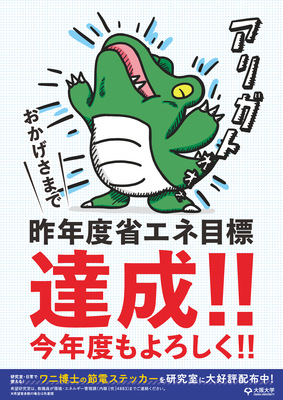 2016.7.8 Fri
Current Student

Faculty / Staff
Osaka University Energy Saving Plan Summer Initiatives Now in Effect
In order to promote low-carbon campuses at Osaka University, the 2016 Osaka University Energy Saving Plan was formulated, with summer initiatives being carried out on all campuses starting July 1.
Osaka University achieved its planned goals for both summer and winter in the last academic year.
We humbly request your cooperation in order to attain our planned goals once again this academic year.
Energy usage by floor area in the 2015-2016 academic year was reduced by about 1/4 (24%) compared to the 2010-2011 academic year.
Osaka University Department of Environment and Energy Management