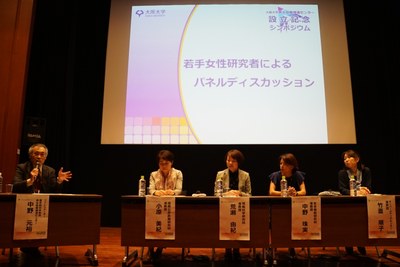 Center for Gender Equality Promotion Founding Commemoration Symposium
The Center for Gender Equality Promotion Founding Commemoration Symposium was held on Tuesday, May 24, 2016 at Icho Kaikan.
A keynote speech was given by visiting professor and former Vice Minister of Health, Labour and Welfare MURAKI Atsuko, and a panel discussion led by female researchers at Osaka University was held, deepening our discussions about the realization of an Osaka University at which anyone can work comfortably and thrive.
Ms. Muraki spoke of her own episodes and hardships in raising her own children, while offering words of encouragement to women of various life stages in the workforce, such as those who are pregnant or raising children of their own: "There is no need to feel sorry. You may be in debt now, but it's important to think positively knowing that you will repay that debt." Additionally, Ms. Muraki explained demographic structures and changes in Japan, as well as the employment rate of women and the international comparison of birth rates by using a wealth of data in a format that was very easy to understand. On gender equality, Ms. Muraki remarked, "[Gender equality] has steadily progressed in Japan. But it has progressed even further around the world."
In addition, from her own experience, Ms. Muraki provided the 3 keys for an organization to create a bright base for women: (1) the top must lead the effort, (2) it must be both "comfortable to work" and "work worth doing," and (3) institutions established should not simply promote women; institutions should be versatile so that anyone can work comfortably, including those individuals with challenges as well as men. She also spoke about some easily understood case examples, while adding a bit of humor, and ended on this note: "If you have a sense of urgency and are serious, you can make a change."
In the panel discussion led by female researchers, a discussion was held on various problems faced by these female researchers, such as the need for a coordinator that is responsible for the procedures for suspension of research and arrangement of substitute faculty members due to maternity leave, the demand for fair personnel affairs considerate of women's life stages, the purpose of setting numerical goals for female faculty members, and the necessity and content of the introduction of a mentor system. This discussion covered a broad range of topics with specific examples from a generation of women performing world-leading research.
President Nishio, after listening intently to the discussion from beginning to end, discussed specifically how we should work towards each proposal and demand, and promised to actively send out information toward the realization of each and the resolution of the problems presented. He commented, "I would like to actively introduce aspects that would prove useful to the university, such as case examples from leading companies. I truly value the opportunities I have to hear authentic, straightforward opinions, and I feel that this discussion was very helpful."
Some 250 individuals were in attendance, such as members of local communities, faculty members from OU, including those in leadership roles, and faculty members from other universities, making for a symposium which showed a high level of interest towards diversification efforts.
| | |
| --- | --- |
| Greeting from President NISHIO Shojiro | Greeting from Director KUDOU Mayumi |
| Keynote speech from MURAKI Atsuko | A scene from the panel discussion |