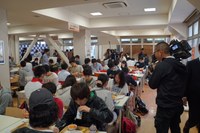 Osaka University Funds for the Future "Free Balanced Breakfast Campaign" begins today!
The Free Balanced Breakfast Campaign starts today! The first day was a great success, seeing all 300 meals taken in just under 40 minutes!
In a university-industry collaboration, Osaka University, Kellogg's Japan, and Ezaki Glico Co. have teamed up for this campaign, the "OU x Kellogg's Glico Free Balanced Breakfast," in order to help students to live a healthy, regulated life. A ceremony was held to celebrated the start of this campaign.
This free breakfast campaign will be held in the restaurant in the library of Osaka University's Toyonaka Campus on weekdays from 8:00 ~ 10:00 am until Friday, June 10.
We hope you use this as an opportunity to get into the habit of eating a healthy breakfast!
| | |
| --- | --- |
| | |
| | |
| | |
| Photos from the opening ceremony | |
| | |
INOUE Yukari (Managing Director, Kellogg's Japan; Graduate, School of Economics, Osaka University) and KURIKI Takashi (Managing Executive Officer, Ezaki Glico, Co.; Graduate, School of Engineering, Osaka University) were both in attendance at the ceremony.