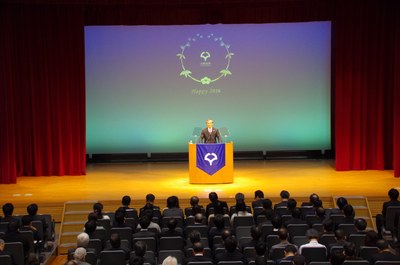 New Year's Greeting from President Nishio
On Monday, January 4 at the Osaka University Convention Center, a New Year's Greeting was held by President Shojiro NISHIO for Osaka University faculty and staff. In the opening of his first New Year's Greeting as President of Osaka University, President Nishio touched on events involving malpractice in the previous year.  "Each and every member of Osaka University must be conscious of the severity of improper conduct, and we must examine ourselves in order to eliminate malpractice and restore trust."
Additionally, President Nishio explained the "5 Kinds of Openness," which form the pillars of the "OU (Osaka University) Vision 2021," currently under intense development.
President Nishio ended his greeting on an encouraging note, saying, "I will do my very best alongside all of you in the coming year."
New Year's Message 2016 - OU (Osaka University) Vision 2021 (English)

New Year's Message 2016 - OU (Osaka University) Vision 2021 (Japanese)