2016.1.6 Wed
Current Student

Faculty / Staff
Acceptance of Applications for the "Research Support System" (for 2016~17)
The Research Support System assists researchers who are having difficulty in securing sufficient time for research due to pregnancy or due to family responsibilities such as child-rearing or caring for a bed-ridden family member. The university employs research assistants to assist researchers in their research. Persons hoping for assistance from this support system are requested to apply as noted below:
Intended for
Full-time and part-time faculty members and researchers, regardless of gender and field of research at Osaka University and Fellows (PD/RPD) of the Japan Society for the Promotion of Science (JSPS). (Please note that individuals with the status of student are not eligible.)
Application acceptance period
Tuesday, January 5 ~ Friday, January 22
Screening by interview
Thursday, January 28 (PM)
Support period
April 1, 2016 ~ March 31, 2017
For more details including how to apply, please view the Research Support System .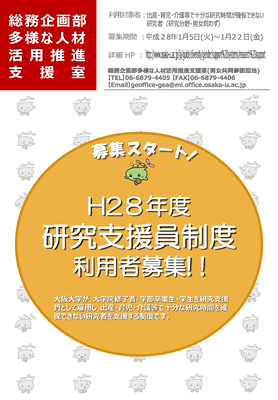 Contact
Support Office for Diversity Promotion in Human Resources (Gender Equality Promotion Division)
Department of General Affairs and Planning
Osaka University
TEL: 06-6879-4405
FAX: 06-6879-4406
Email: geoffice-gea(at)ml.office.osaka-u.ac.jp
(Please replace (at) with @ when contacting this address.)