Osaka University Thailand Alumni Reunion
On Saturday, November 7, 2015, 65 alumni, faculty and staff members participated in the Osaka University Thailand Alumni Reunion at the Pullman Bangkok Grande Sukhumvit in Bangkok.
At the reunion, after receiving greetings from Itthichai Arungsrisangchai ( Osaka University Thailand Alumni Association Chair ) , KUMAGAI Nobuaki ( Osaka University Alumni Associations Federation President ) , FUKUDA Kazuhiro ( Sakuyakai Bangkok Branch Director ), and NISHIO Shojiro (Osaka University President), HOSHINO Toshiya (Osaka University Executive Vice President) gave a presentation on current events at the University.
Later on, President Nishio gave a commemorative gift to Plew Trivisvavet (CH. Karnchang Public Company Limited Executive Board Chairman) who won the 2014 Outstanding Old Japan Student Award in Career Achievement from the Old Japan Students' Association, Kingdom of Thailand (OJSAT).
Following the ceremony, the participants engaged in friendly conversation.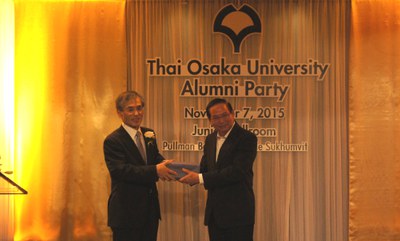 President Nishio gives a commemorative gift to Mr. Plew Trivisvavet