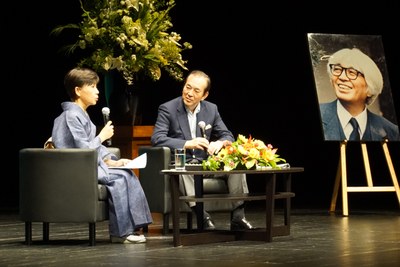 Osaka University SHIBA Ryotaro Memorial Academic Lecture held
On Saturday, July 11, 2015, the Osaka University SHIBA Ryotaro Memorial Academic Lecture was held at Saneki Hall Breezé in Kita-ku, Osaka city. This academic lecture focused on the works of SHIBA Ryotaro, a nationally-prized author and graduate of the School of Foreign Studies (formerly Osaka University of Foreign Studies), as well as provided an opportunity to discuss the people and culture of Japan.
Following the opening greeting from President HIRANO Toshio, visiting professor at Osaka University and current professor as Nagasaki University Prof. Dr. Harm en Beukers gave a special speech on the history of rangaku , or Western learning in Japan, and Tekijuku. Following Prof. Dr. Beukers' special speech, Hosei University President TANAKA Yuko and the University of Tokyo Emeritus Professor YAMAUCHI Masayuki gave a lecture under the title of "The Road to Bakumatsu - A Surge of World History and the Japanese Intellect," followed by a talk segment by the two.
This academic lecture was definitely a fruitful experience for the nearly 700 attendees, and allowed those in attendance a chance to see history and the world through Mr. SHIBA's eyes.
| | |
| --- | --- |
| Opening greeting from President HIRANO | Special speech from Prof. Dr. Harm en Beukers |
| Lecture by Hosei University President TANAKA Yuko | Lecture by University of Tokyo Emeritus Professor YAMAUCHI Masayuki |
| Talk session by President TANAKA and Professor YAMAUCHI | A scene from the talk session |
| A scene from the talk session | Radio Osaka Announcer and MC OGAWA Mayu |