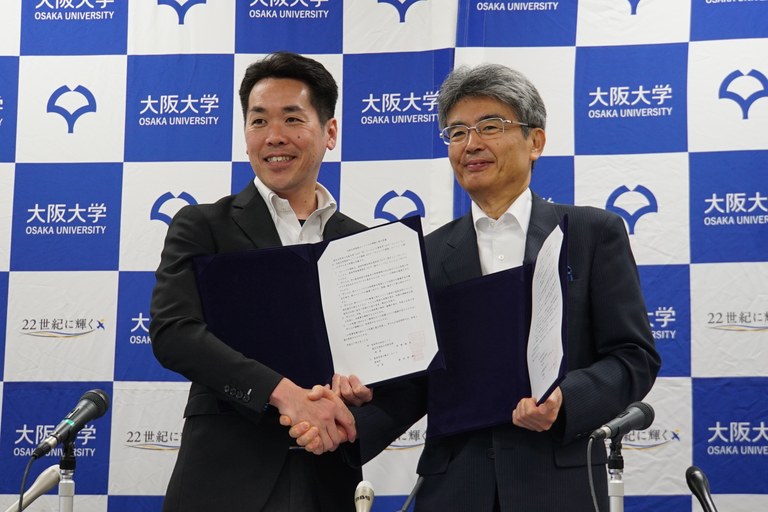 Minoh Campus to Change Locations
On Wednesday, June 17, 2015, Osaka University President HIRANO Toshio and Minoh City Mayor KURATA Tetsuro held a press conference at Osaka University's Nakanoshima Center about the Minoh Campus's new location. This planned move will have the Minoh Campus moving from its current location in the Aomatani-higashi area of Minoh City, to the Semba-higashi area of Minoh City, where a new station on the Kita-Osaka Kyuko Line (tentatively named Minoh-Semba station) is planned to begin operations in 2020 in accordance with the extension of the line. This planned move would put Osaka University's new Minoh Campus just to the east of the new station under this land readjustment project.
With the aim of concluding the mutual agreement signing in April of 2016, discussions on the project scheme of the move to the new campus as well as the effective utilization of the eventual vacancy of the current campus will continue.
Minoh City Mayor KURATA and Osaka University President HIRANO exchange memorandums
| Minoh City Vice Mayor ITOH Tetsuo (far left) | Executive Vice President EBISU Shigeyuki (far right) |
| --- | --- |
• Overview of Osaka University Minoh Campus Move (File in Japanese)
• Memorandum on the Osaka University Minoh Campus Move (File in Japanese)
Comments from President HIRANO
For Osaka University, ever since the merger with Osaka University of Foreign Studies in 2007, the problems of the Minoh Campus have been those that we need to solve the most. Currently, Osaka University is split into 3 campuses: Toyonaka, Suita, and Minoh, and we've attempted to lighten the load on our students and their studies by doing things such as running school buses between the campuses. The aging and effective use of the buildings on campus have become a pressing issue, and I've thought about various solutions to these problems since I became president of Osaka University 4 years ago. However, there were financial issues to consider, making a solution far from simple.
And it was in this set of circumstances that last year, a plan to move the Minoh Campus as the core of the "Minoh-Semba Station Area Concept," in accordance with the extension of the Kita-Osaka Kyuko Line in 2020, was presented by Minoh City. When I first heard it, I thought it was a dream come true to have such a longstanding issue get resolved in one fell swoop, so I send a response stating that Osaka University would like to make an introductory investigation into this possible resolution. From there, Minoh City and Osaka University continued discussions.
This "New Minoh Campus" project is not simply a move of our School of Foreign Studies. It is a large project that will serve as one of the pillars of our "World Tekijuku" concept, as Osaka University will continue to be a university that is open to the world and contributes to it. As such, we will continue to work together with Minoh City on an attracting concept for the School of Foreign Studies at Osaka University.
We plan on placing the new campus in between the Toyonaka and Suita campuses in front of Minoh-Semba station as a kind of "urban campus," and we feel that this campus has value through "formation of a community and collaboration with the region" and "mutual utilization of facilities with Minoh City." A large merit of this location is its ease of access to Osaka University facilities at Toyonaka, Suita, Nakanoshima Center and Tekijuku, as well as Osaka City, the shinkansen , and Osaka Airport, all within 20-30 minutes of the new campus, giving the new location a very convenient T-shaped region of access. We expect the new campus to have the capability to become the headquarters for the World Tekijuku that is Osaka University.
The convenience and quality of the location for both Minoh City and Osaka University, as well as its potential for development, drove us to consider the planned move to the Minoh-Semba station front as one with far-sighted potential in the future, and today, we have arrived at a basic consensus. Thus, we have decided to begin working toward an official agreement in April of 2016. We at Osaka University intend to proactively drive this project as one necessary for the "World Tekijuku," with the aim of opening the new campus just in time for Osaka University's 90th anniversary in 2021.

June 17, 2015
HIRANO Toshio
President, Osaka University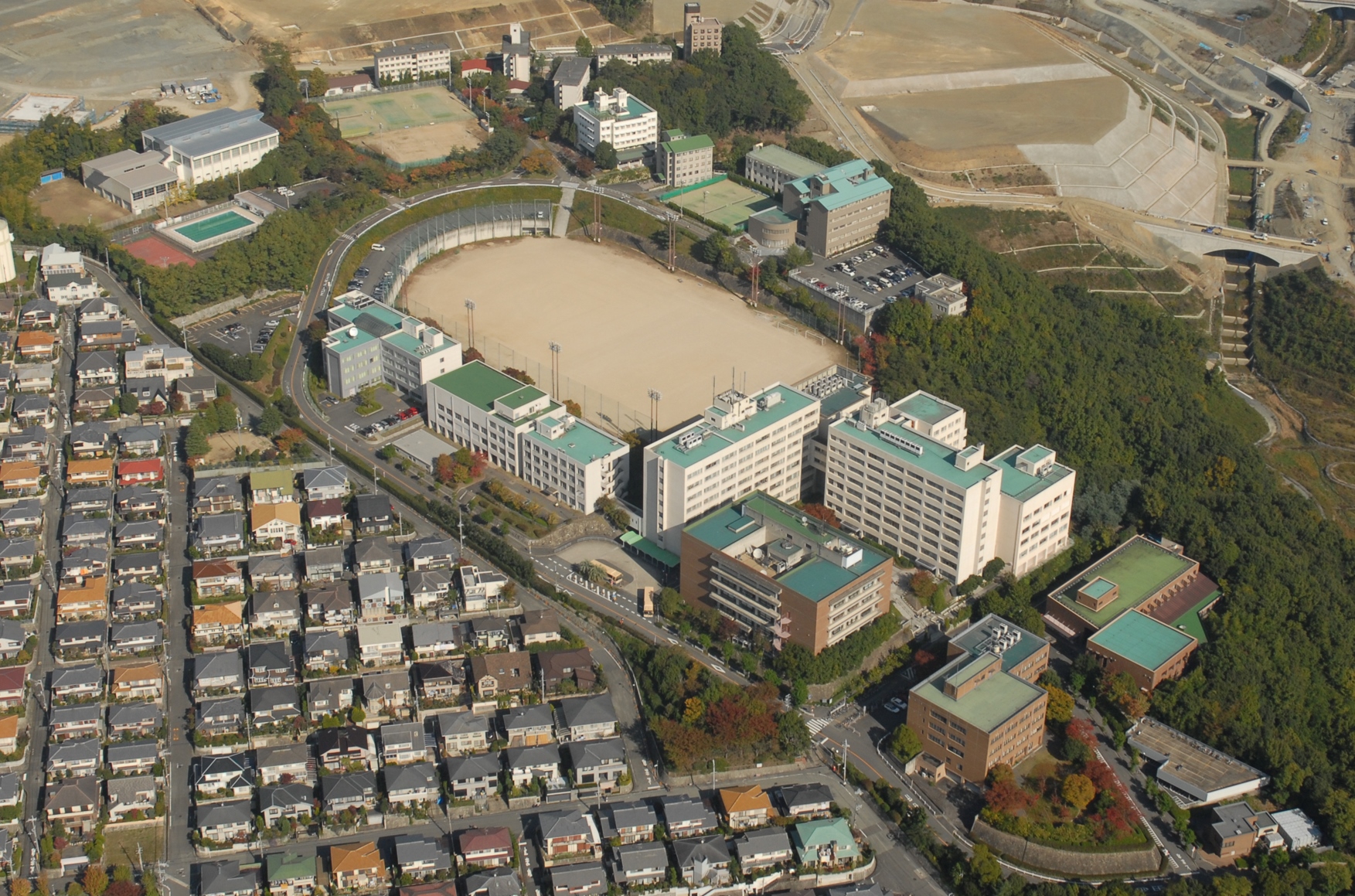 Osaka University Minoh Campus (taken 11/2008)

Image of new campus area
Related Link

Osaka University Minoh Campus to Change Locations (Minoh City Website) (Link in Japanese)