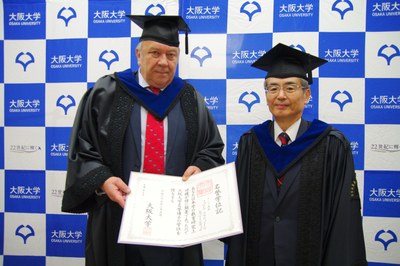 Vladimir Fortov (President, Russian Academy of Sciences) Receives Honorary Degree from Osaka University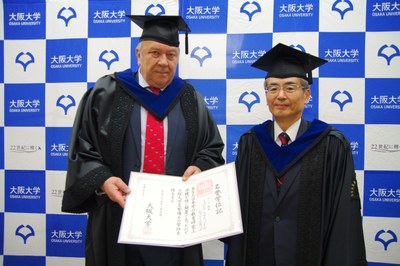 President Fortov (Left) and President HIRANO
Russian Academy of Sciences President Vladimir Yevgenyevich Fortov, through various efforts, such as the direct proposal of collaborative research with Osaka University as a Japan to Russia government-to-government collaborative research project, has contributed to the expansion of Osaka University's presence not only in Japan, but in the Russian Federation as well.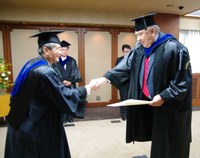 To acknowledge these endeavors, on Tuesday, June 9, 2015, President Fortov was awarded with an honorary degree from Osaka University.
Through this conferment, we hope that the academic exchange between Japan and Russia continues to grow and develop.
Honorary degrees at Osaka University are conferred to those individuals from outside of Japan who, through international cultural exchange, have made notable contributions to education and research at Osaka University. President Fortov is the 5th recipient of this degree.
*For past recipients, please click here.
President Vladimir Fortov Profile
A 1968 graduate of the Moscow Institute of Physics and Technology, Vladmir Fortov received his Candidate of Sciences degree in 1971, and his Doctor of Sciences in 1977. In 1982, he received his presidential qualifications in chemical and plasma physics. He was selected to the Russian Academy of Sciences in 1987 as a visiting physics technician in electric power engineering, and in 1991, he was made an official member in both electric power engineering and chemistry technology sectors. Since then, Dr. Fortov has filled key positions such as senior fellow, laboratory chief, research institute director, and vice president, and in 2013, he became president of the Russian Academy of Sciences. In addition, he has served as the chairman of the State Committee of Science and Technology and Vice Chairman of the Russian Federation Government, along with various other posts around the world.
As a researcher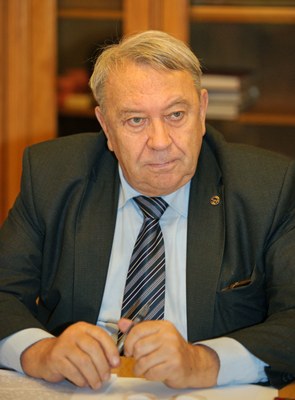 Dr. Fortov has worldwide achievements in the fields of electrical power engineering, thermal physics, shock wave physics, combustion wave physics, and plasma physics. Known as a pioneer for his research such as the occurrence of high current pulses using shock waves and the physical and chemical properties of matter in extreme heat and pressure, he is also a leading expert in specific measurements related to magnetic flux compression generators. He has also been successful in more creative scientific research, and has produced results in the field of high energy density sciences, a completely new field in the realm of physics, through use of power lasers, contributing to the development of material science under extreme conditions. These research results have earned him the 2013 Global Energy Prize, known as the "Russian Nobel Prize," making him on of the leading world experts in his field.
Past recipients
・NAMBU Yoichiro (USA) (December 13, 1995)
・Otto Vogl (USA) (July 17, 1996)
・Georg Klein (Sweden) (April 18, 2001)
・ Pornchai Matangkasombut (Thailand) (July 18, 2007)