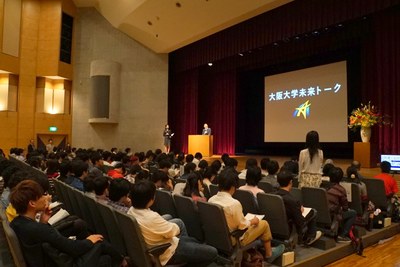 18th Osaka University Future Talk Held
On Monday, May 18, 2015, the 18th Osaka University Future Talk was held at the Osaka University Convention Center.
For this Future Talk, Professor YAMANAKA Shinya, Professor and Director of Kyoto University's Center for iPS Cell Research and Application, and winner of the 2012 Nobel Prize in Physiology or Medicine, gave an insightful lecture.
This Future Talk had the highest participation numbers for any Future Talk thus far, with over 2000 total attendees across the main venue, three live broadcast venues, and five satellite venues, making this truly a standing room only event.
During Professor YAMANAKA's lecture on "New Medical Science Opened by iPS Cells," he very clearly explained to the attendees about regenerative medicine and drug discovery research using iPS cell technology, as well as the difference between ES cells and iPS cells, while adding in a bit of light humor along the way. Those in attendance listened to his speech with great interest.
He also spoke about how he wants to make sure that he can deliver the products of regenerative medicine and drug discovery research to those patients who need it as quickly as possible, and to not get deterred during fundamental research, both of which made for impactful topics.
To Professor YAMKNAKA and to all those in attendance, thank you so much for joining up.
The next Future Talk will feature Professor NAGATA Kazuhiro, Emeritus Professor of the Faculty of Life Sciences at Kyoto University, as well as a well-versed poet, on Monday, June 15, 2015, from 17:00. We look forward to seeing you there!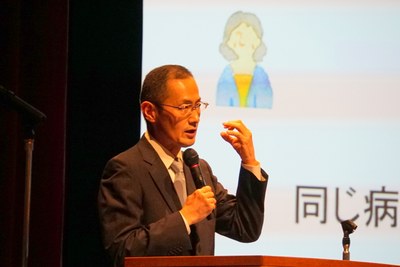 Professor Yamanaka spoke about even the most
technical subject matter in a very clear, easy-to-understand format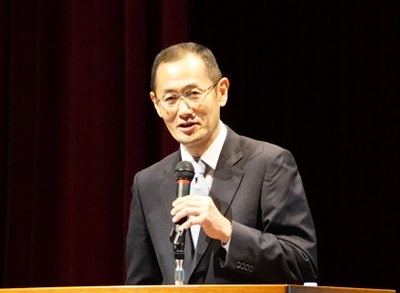 Professor Yamanaka during his speech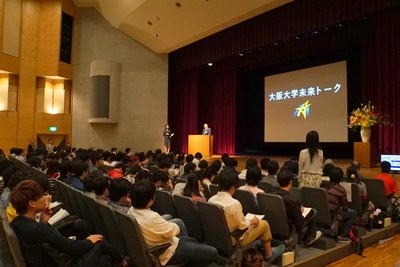 Students also had their questions answered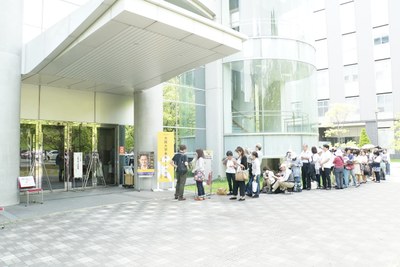 Look at this line! Attendees wait
to enter the Convention Center