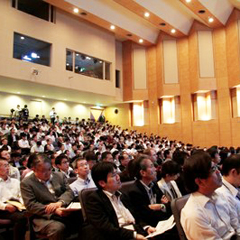 Explanatory Session about "World Tekijuku" held
On Tuesday, October 14, an Explanatory Session about the concept of "World Tekijuku" was held at the Convention Center, Osaka University. As the Explanatory Session was also made availabe for viewing at satellite locations on the Toyonaka campus, Minoh campus, and at the Osaka University Tokyo Office, some 600 faculty and staff members participated in the event.
In 2014, Osaka University's first year as "World Tekijuku," OU stands at the starting point of university and education reform. Selected as a university for receipt of support from MEXT under the Top Global University Project , Osaka University will work as one promoting the idea of GLOBAL UNIVERSITY, World Tekijuku . In order to inform faculty and staff of his determination, President Toshio HIRANO held this session in which he explained about the direction and approaches that Osaka University should and would take in the future. He enthusiastically encouraged faculty and staff, saying, "I want you to work hard to achieve our dream. Even if it's something small, please spare no effort in achieving that end."
To view Dr. Hirano's presentation and/or download the presentation materials he used, go here .