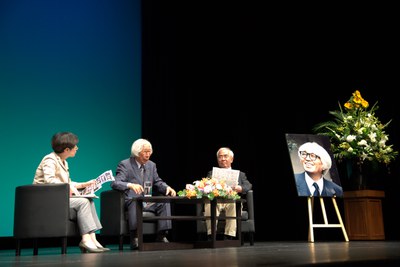 SHIBA Ryotaro Memorial Lectures held
On Saturday, July 12, SHIBA Ryotaro Memorial Lectures were held at the Sankei Hall Breeze, Kita-ku, Osaka City under the joint sponsorship of Osaka University and Sankei Shimbun. This event was held to honor memory of achievements of the late SHIBA Ryotaro, a popular author and graduate of Osaka University of Foreign Studies, the former Osaka School of Foreign Languages.
The lectures started with greetings from President Toshio HIRANO. Following  his greetings, KABAYAMA Koichi, Professor Emeritus, The University of Tokyo; Director, Printing Museum, Tokyo, and KIMURA Shigenobu, Professor Emeritus, Osaka University; Director Emeritus, Hyogo Prefectural Museum of Art, delivered speeches and had a discussion on the theme of "Kaido wo yuku [travel writing] -- Chance Meetings of East and West".
Following that, a video message from ANNO Mitsumasa, the painter who had a friendship with Mr. Shiba and illustrated for Kaido wo yuku [travel writing] was introduced. He spoke about his memory with  Mr. Shiba. Some 750 people participated in this event, enjoying the author's interpretation of the world and art.
| | |
| --- | --- |
| Mr. Kabayama | Mr. Kimura |
| | |
| Mr. Anno | Talk |