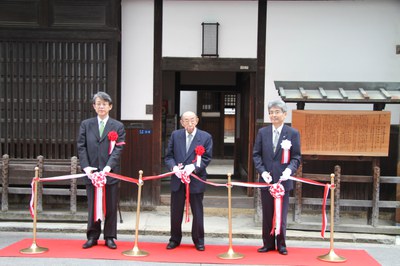 Tekijuku reopened on May 15
Osaka University preserves and manages a historical landmark and important cultural asset, Tekijuku . Following the completion of seismic retrofitting of Tekijuku, on Wednesday, May 14, Osaka University invited guests to a preview of the renovated building before its official opening. In the seismic retrofitting of the building, estimated to be more than 200 years of age or older, composite steel plate shear wall s (never employed before in Japan) and more were employed so as to not impact the appearance and ambiance of this cultural asset.
This year marks the 176th anniversary of the founding of  Tekijuku, the historical root of Osaka University. A totally new large wooden board in front of Tekijuku carries a brief history of this cultural asset. From Kaihei Elementary School in the neighborhood, 20 fourth graders were invited to the preview. OGATA Koreyuki, the fifth heir-to-be of OGATA Koan, extended words of welcome to the children. In response to President Toshio HIRANO's talk which followed, the children responded lustily, "We know about OGATA Koan." "We know about FUKUZAWA Yukichi."
As of May 15, Tekijuku is now open to the public. In concert with its reopening, a special exhibition on " The Heisei Renovation of Tekijuku -- Passing on a Historical Legacy to the Future " is being held May 15 ~ June 15.
| | |
| --- | --- |
| Opening ceremony (from L to R: NHK Osaka Director, Sakamoto, Mr. Ogata, President Hirano) | Listening to explanation on renovation |
| | |
| A composite steel plate shear wall | Mr. Ogata and children |
| | |
| President Hirano and children | President Hirano presents a commemorative gift |
| | |
| Children take notes while listening to Prof. Hirokawa | The new board in front of Tekijuku |
Related links