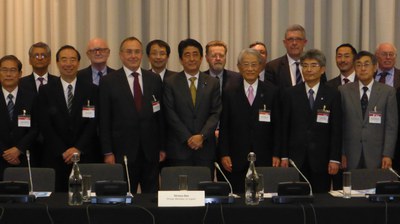 President visits Imperial College London, attends Japan-UK Conference 'Collaboration in Research and Education'
On May 1, 2014, President Toshio HIRANO, Trustee & Vice President Yasuyuki OKAMURA, and Vice President Toshiya HOSHINO attended the Japan-UK Conference 'Collaboration in Research and Education' held at University College London (UCL).
In cooperation with British Council, Japan Society for the Promotion of Science, and the Ministry of Education, Culture, Sports, Science and Technology, this first conference was held under the sponsorship of Embassy of Japan in the UK and UCL. Leaders of the top 14 universities in Japan and 17 universities in the UK gathered in order to deepen and develop Japan-UK cooperation by making presentations of their efforts in education and research and through discussions among presidents regarding bilateral collaboration and challenges facing both nations.
President Hirano made a presentation entitled " Promoting Mutual Exchange of Academia and Researchers " and then participated in a round-table talk with Prime Minister Shinzo ABE who was on a visit to countries in Europe.
Prime Minister Abe spoke about five young people known as the "Choshu Five," members of the Choshu clan, who studied at UCL about 150 years ago and later contributed to building the foundation of modern Japan. He made clear his expectations, stating, "The source of innovation and creativity is to be found in students from a variety of backgrounds studying together and cultivating themselves through diligence in their studies. Thus, I look forward to exchange among students and researchers in both countries and the realization of new collaborative research projects."
On May 2, President Hirano, Trustee & Vice President OKAMURA, and Hiroyasu ISO, Vice Dean of the Graduate School of Medicine visited Imperial College London. Imperial College London has some 16,000 students in its schools and graduate schools of medicine, engineering, and natural science, as well as a school of business. Nearly half of these students are international. In 2007, the college celebrated its 100th anniversary. The college is a world-class research universities and in 2013-2014 was ranked 10th in the Times Higher Education World University Rankings and 5th in the QS World University Rankings.
The three administrators from Osaka University discussed the possibility of research and education exchange focusing on life sciences with Prof. Debra Humphris (Vice Provost for Education), Prof. Nigel Gooderham (Molecular Toxicology Professor, Senior College Consul), and Prof. Murray Selkirk (Biochemical Parasitology Professor, Head, Department of Life Sciences).
Member universities of the Japan-UK Conference 'Collaboration in Research and Education' (in alphabetical order):
From Japan -- Doshisha, Hitotsubashi, Hokkaido, Keio, Kyoto, Kyushu, Nagoya, Osaka, Ritsumeikan, Tohoku, Tokyo, Tokyo Institute of Technology, Tsukuba, Waseda
From the UK -- Bristol, Cambridge, Durham, Edinburgh, Imperial College London, King's College London, Leeds, Liverpool, London School of Economics and Political Science (LSE), Manchester, Newcastle, Oxford, Sheffield, UCL, York, Warwick
President Hirano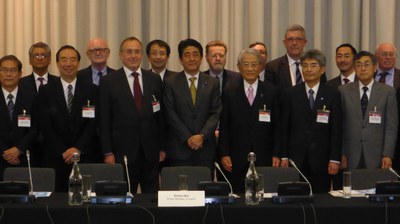 Prime Minister Abe and participants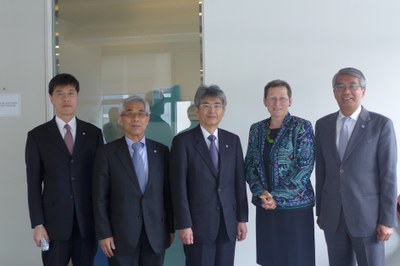 From L to R, Vice Dean Iso, Trustee Okamura, President Hirano, Prof. Humphris, Head of the International Exchange Dept. Mr. Mitsuo