"Idea Awards" for 2012~13 announced
Osaka University solicits suggestions regarding work improvement from faculty and staff both in order to improve work efficiency and also to increase the awareness of faculty and staff that they can be participants in work improvement. Suggestions that are submitted are passed on to the working group reporting to the trustee in charge of office reform where they are then either adopted or rejected. Without failure, all suggestions adopted by the working group are put into practice and, additionally, the faculty or staff member who submitted the suggestion is awarded a "Business Improvement Idea Award."
Between October 2011 and September 2012, nine suggestions were submitted. Of these nine, four were adopted and the personnel who submitted them were slated for Idea Awards. Thus, on Thursday, November 29 , an Award Ceremony was held in the office of President Tohio HIRANO .
For more information on this year's awards and awardees, go here .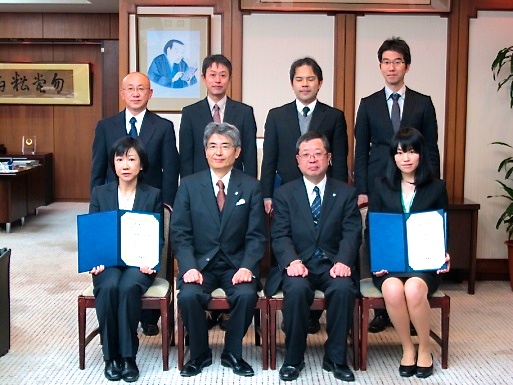 President Hirano (front, center left), Trustee Oyama (front, center right) and awardees