Award ceremony for Grants-in-Aid for Extracurricular Research
The award ceremony for the 13th Grants-in-Aid for Extracurricular Research was held in the Administration Bureau Building on Friday, July 6, with President Hirano, Vice President Higashijima, and the Campus Life Committee Chairperson Miyazaki in attendance.
Osaka University established the Grants-in-Aid for Extracurricular Research system in order to raise undergraduates' awareness on the importance of research.
Grants are given in recognition of unique student-led research by individual undergraduates or groups of undergraduates. Eighteen applications were received for these grants and the nine research projects noted below were chosen.
The ceremony opened with an explanation on the screening process by Mr. Miyazaki. Next, President Hirano conferred certificates of commendation on the winners before delivering a speech. The ceremony closed with the winners expressing their hopes and expectations for their projects.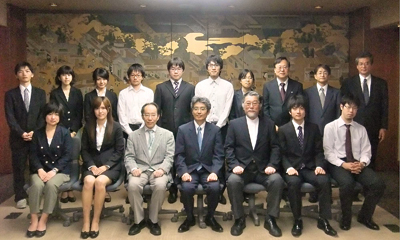 Selected Research Project Topics

Research regarding:

International legal system through participation in the International Moot Court Competition
Design and functional evaluation of unique genetic engineering biological devices
Clarification of local history of the tumulus period through fieldwork at Ichisuka Kohungun [tumuli] in Osaka and publication of results
The influence of the University Volunteer Center on volunteer activities by students -- comparing responses before and after the Great East Japan Earthquake (of March 11, 2011)

Approaches to resolving conflicts between companies in international society
Awareness of the status of Osaka University by Chinese exchange students and steps for enhancing such preconceptions

Analysis of vehicle dynamics for small racing cars and development of race cars for the Student Formula Design Competition
Winning the NHK Robot Contest
Design for man-powered tailless aircraft requiring less power input