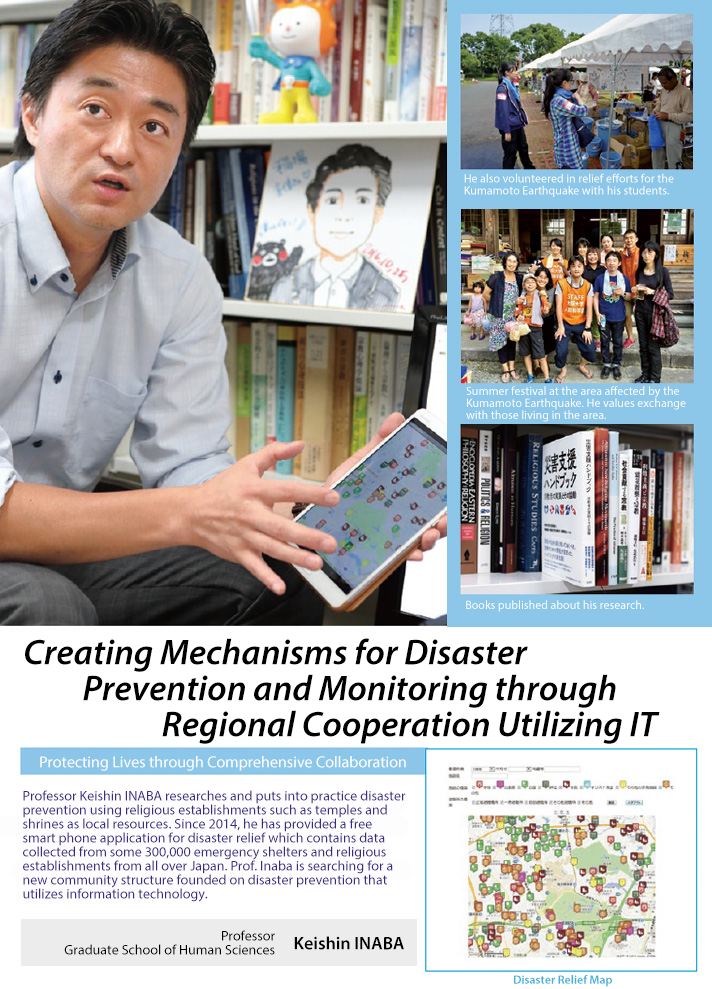 Creating Mechanisms for Disaster Prevention and Monitoring through Regional Cooperation Utilizing IT
Utilizing religious establishments as centers for regional disaster prevention
A prominent feature of "Kyusai Map," a disaster relief application released in 2014 for Android and iOS (registered as intellectual property of Osaka University in January 2017), is its ability to display shelters designated by local municipalities as well as religious establishments such as temples, shrines, and churches on a map.
The impetus for developing this app was the Great East Japan Earthquake in 2011. "In affected areas, over 100 temples and shrines were utilized as emergency shelters. I've been studying the societal role of religion, and because temples and shrines are so familiar to local people and can hold a larger number of people, I had predicted that these religious establishments would serve as emergency shelters." So Prof. Inaba set his sights on religious establishments as centers for disaster prevention. He brought relief supplies to disaster areas and, while assisting in relief efforts, gathered data on the relief situation from religious workers. He found that disaster cooperation agreements and arrangements between religious establishments and municipalities increased after the earthquake, which in turn led to the planning and development of "Kyusai Map."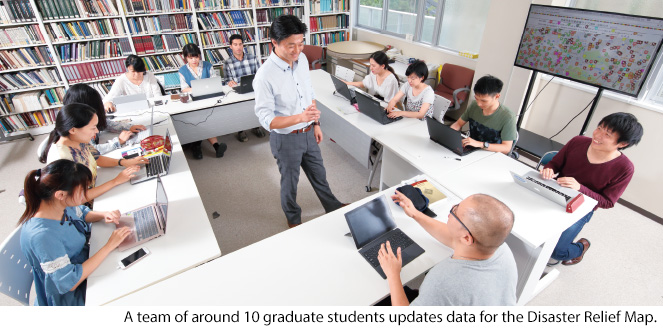 "Kyusai Map" can also be used while away on business or while traveling
A number of apps for disaster relief already exist , but Prof. Inaba explained, "The information that they provide is generally limited to a local area, which makes it impossible to use while away on business or travel. 'Kyusai Map' shows shelters and religious establishments, such as temple and shrines, that are close to your current location using GPS functionality." Its other important feature is the ability for users to interact with the app, allowing citizens to report disaster status. "People can post the degree of the disaster, the status of relief supplies, and the status of sick or injured individuals. Such information will be useful as information infrastructure for relief activity in cooperation with the government and volunteers."
In order to get people to use the app in disaster situations, it's necessary for them to get used to using it on a regular basis. To this end, Prof. Inaba plans to improve the app to display regional tourist information moving forward so that people can use the app in everyday situations, which will raise their awareness of the app and spread its use.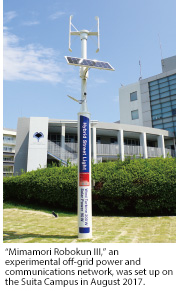 Preparing for power outage due to natural disasters
Assuming the event of damage to communication relay stations and/or a power outage, "we will promote nation-wide installation of lamp posts with Wi-Fi station functionality that provides unfettered Internet access even during natural disasters and power generation functionality through wind and solar energy." These lamp posts will be equipped with security cameras, so they can be used for monitoring the elderly and children in the area in normal situations. Three of these lamp posts were installed on Osaka University's Suita Campus in August 2017, with experiments already in place to simulate disaster situations.
Toward a society in which people support each other beyond differences of nationality, race, and opinion
Prof. Inaba, whose research themes include the societal role and altruism of religion, participated in the planning of "Kyosei Studies," a newly established course in the Graduate School of Human Sciences that explores the ideal form of coexistence both theoretically and pragmatically, in April 2016. "I was raised in a single mother household and received a lot of support from people in the area, so I've got a personal interest in social justice, altruism, and inclusive society, and I've been carrying out surveys and research both in Japan and overseas." His dream is for society to become one in which people support each other beyond differences of nationality, race, and opinion. "I've been told to not be so naïve, but it's important to direct what you think is important to society," said Prof. Inaba, who has also published works on altruism. Meanwhile, he gives weight on field observation in natural settings to understand problems faced by society. While collaborating with various people in various regions, "I want to construct an academic discipline in order to build an inclusive society in which all people can participate effectively and live together, and promote it both in Japan and around the world."

• Keishin INABA
A 1995 graduate of the Faculty of Letters, The University of Tokyo, Professor Inaba received his doctorate in religious sociology from the University of London in 2000. After serving as an Assistant Professor at the Faculty of Human Development, Kobe University (2003 ~ 2007), he became an Associate Professor at the Graduate School of Human Sciences, Osaka University in 2010. He took his current position as a Professor at the same Graduate School in 2016. His works include Disaster Relief Handbook (Shunjusha Publishing) and Altriusm and Religion (Koubundou Publishers Inc.), among others.