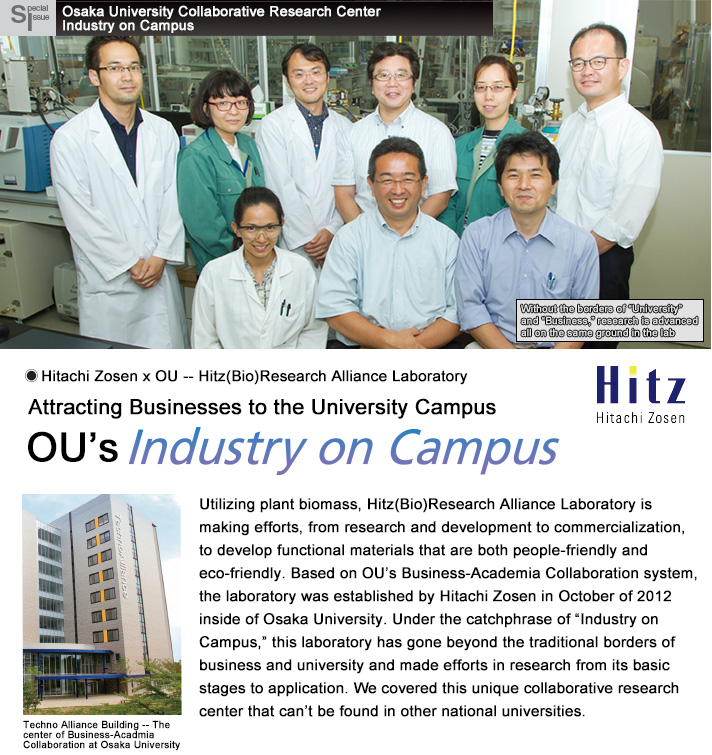 OU's Industry on Campus
Collaborative Research Centers
This is a new mechanism of Business-Academic Collaboration which expands multifaceted collaborative activity between business and academia by attracting research organizations of businesses to Osaka University. Through long-term securement and collaboration between the industrial realm and those research hubs in the realm of academia which contribute to the advancement of society, these centers strive to promote the use of research results at Osaka University in the industrial realm, and enhance research and cultivation of human resources. Currently, there are seven Collaborative Research Centers on the Suita Campus. At Osaka University, the establishment of Joint Research Courses and Divisions with businesses has been actively promoted for nearly 10 years as a new framework of the Business-Academia Collaboration system.
Research and Development for Plant-Derived Shock Resistant Functional Materials through Collaborative Research with OU
A New Material Called Eucommia Elastomer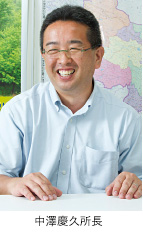 Hitz(Bio)Research Alliance Laboratory was established inside the Techno-Alliance Building, a Business-Academia Collaboration hub on Osaka University's Suita Campus, and is a 400 square meter space on the 8 th and 9 th floors of the building.
The main topic of research at the Hitz Lab is a functional material known as eucommia elastomer, comprised mainly of ultrahigh molecular weight polyethylene (UHMWPE) , a toughened gum material related to natural rubber. "Eucommia elastomer is a natural polymer produced by the eucommia plant and contains qualities that are neither gum nor tree resin. It has more shock resistance than natural rubber, and when mixed with tree resin as a secondary ingredient, this shock resistance is strengthened.
Since it's a plant-based biomass, it's kind to the environment as well. The allergies that occur in natural rubber do not with eucommia elastomer, and it also displays antibacterial properties," said NAKAZAWA Yoshihisa, Specially Appointed Professor at Osaka University and Director of Hitz(Bio)Research Alliance Laboratory.
A New Project from Hitachi Zosen (Hitz)
In actuality, eucommia is a deciduous tree also known as an ingredient for teas and other products, such as health teas. Hitachi Zosen established its bio division in 1987, and after beginning manufacturing and sale of du zhong tea, there are accounts that this caused the du zhong tea boom of 1994.
Hitachi Zosen and Osaka University began research and development in order to use this eucommia elastomer as a new plant-based biomass resource to serve as an alternative for petroleum resources in 1998. Research was conducted in biotechnology and metabolite analysis with eucommia as the chief material, and in 2010, the "Hitz Biomass Development Joint Research Course" was established in the Graduate School of Engineering. Following this, in order to perform more multifaceted research, the Hitz(Bio)Research Alliance Laboratory was opened. By completely moving their hub onto the campus of Osaka University, business-academia collaboration advanced smoothly, and research and development became more sophisticated.
Living for Eucommia
Director Nazakwa, who specializes in Plant Materials Science, was formerly one of the members who began the du zhong tea project at Hitachi Zosen. "After I entered the company, from development and sales of du zhong tea, to research and development of eucommia elastomers, I've devoted 30 years to eucommia. I've lived for it." In addition to faculty members at Osaka University, a variety of human resources gather at the Hitz(Bio)Research Alliance Laboratory, including visiting faculty members and researchers from Hitz, as well as postdocs and university students, and work together to develop multilayered research activities. According to Director Nakazawa, "SAITO Hiroshi, a visiting researcher in charge of sales, is constantly going to exhibitions around the country, in addition to performing PR work related to eucommia elastomer and business-academia collaborations with OU."

Aiming for the Creation of New Industry, with OU as Base of Operations
From Basic Research to Applied Research, All at OU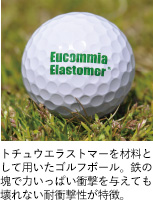 This is the 3 rd year after reestablishment as Hitz(Bio)Research Alliance Laboratory. "In basic research that I have been performing since around ten years ago, I was able to analyze mechanisms and genes which allow eucommia to produce high molecular mass polymers. In addition, I was able to obtain basic data on the characteristics of plants and cultivation methods important in handling biomass. In applied research we are performing as a collaborative laboratory, we have been repeatedly performing experiments combining eucommia with various other materials such as different types of polymers and metals, and we found that we could supplement the durability of biomaterials, which was originally the weakness of such materials. Eucommia elastomer is the only material that is both bio-based and shows this much durability. I'd like to raise awareness of this material and aim for its application in various industries."
Cultivating Eucommia Even Inside OU
Director Nakazawa says that currently, he is working on high volume production and stable supply of eucommia elastomer. "Different from research and development, when commercialized, orders of tons of the material become necessary. In addition, having a garden and cultivating the material in a different country (China) comes with its difficulties, so SUZUKI Nobuaki, a Visiting Associate Professor in charge of basic research, has been searching for idle land for domestic cultivation." Breeding is already taking place in the Medicinal Plant Garden at the Graduate School of Pharmaceutical Sciences (Suita Campus), where about 8,000 eucommia are being cultivated and prepared.
A New "Business-Business-Academia Collaboration" is Born
A large characteristic of this laboratory is being able to take initiative on the business side while still being on a university campus. In addition, as a new movement of the laboratory, collaboration has not stopped at simply "Business Academia" but is being born as the research and development system "Business-Business-Academia Collaboration." "Research organizations of various other businesses have been relocated to the Techno Alliance Building, which started "Business-Business" projects. I'd like to work together with other companies in manufacturing of eucommia elastomer with OU as a base of operations," said Director Nazawa.
OU's New Form of Business-Academia Collaboration
The history of the Hitz(Bio)Research Alliance Laboratory is both the history of Business-Academia Collaboration at Osaka University itself, as well as a successful example representative of this collaboration. Director Nakazawa had this to say: "With OU as the contact, public funds from the New Energy and Industrial Technology Development Organization (NEDO) were poured into the bud of innovation that is eucommia elastomers, and without placing much burden on the operation of Hitachi Zosen, we were able to continue development from a mid- to long-term viewpoint. We were only able to do this because OU has the Osaka spirit, as well as a strong will to develop Business-Academia Collaboration. This eucommia elastomer research was only possible through a tag-team effort with OU."
In addition, Director Nakazawa also puts his energy into the cultivation of human resources, teaching classes in career guidance, among other subjects. "The students who do research here will not all come to Hitz, but being able to collaborate even if students go to other companies is huge. I want the students to become individuals who 'never give up.' If they can achieve something even once every ten years, then that's good enough."
Fusion of Academia and the Industrial Realm
Director Nakazawa's goal for the future is to develop various materials. "I'd like to advance research in biological system materials development with the Faculty of Medicine and School of Dentistry, and take up a Medicine-Dentistry-Engineering Collaboration project," said the motivated director. "The age of businesses having organizations such as a central research laboratory for research and development has ended; now a system of integrating with academic organizations such as universities and forming a coalition with the industrial realm has become important. We are undertaking these challenges at the Hitz(Bio)Research Alliance Laboratory. I'd like to continue to learn by trial and error and make these efforts a success."