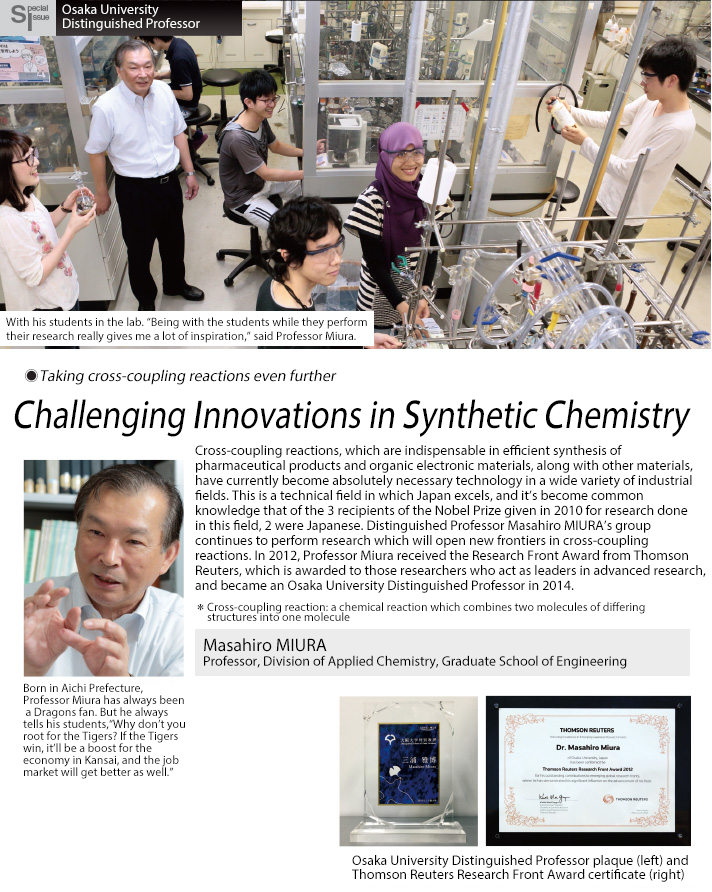 Challenging Innovations in Synthetic Chemistry
Towards Environment-Conscious Cross-Coupling Reactions
In order to develop and popularize cross-coupling reactions as environment-conscious industrial technology, problems such as raising efficiency, reducing waste products, and the simplification of the reaction process remain as unsolved issues. In Distinguished Professor Miura's laboratory, a new method was developed in which the reaction process was advanced without any halogenation or metallization. Because the process is now able to be progressed without many intermediate steps, the process was shortened and the target molecules can be synthesized all at once. In addition, synthesis of molecule groups that had been difficult to construct has become possible.
Additionally, Professor Miura has shattered the common knowledge that "expensive metallic catalysts are necessary for cross-coupling," performing research on reactions using cheap copper as the catalyst as well. Because the only byproduct for this reaction is water, this research has been highly valued both inside the university and out as having an impact both economically and environmentally.
Research papers on environment-conscious cross-coupling by Professor Miura's group have been cited over 8,000 times over the last 5 years, and over 1,000 times in the first half of this year alone, showing just how much attention this research has been garnering all over the world, and there's no signs of stopping. From 2014, Joint Research Courses with private businesses have been established in the Graduate School of Engineering at Osaka University. He continues to make efforts to strive for even more innovative and useful development of reactions.
Discovering Treasures through Trial and Error
Professor Miura first considers established knowledge and information about catalytic chemistry and complex chemistry and continues his research from the ideas and hints he obtains from these. An important point on this style of piecing together information and closing in on a goal, he mentions, is to "really sit down and think about what you yourself can do." However, the road to establishing a new cross-coupling reaction was not a smooth one. "Even if you have a stable prediction and go through verification tests, many times the results will not be what you expected. But the truth is, the results down the line are actually better if reactions occur that you didn't expect," said Professor Miura. The turning point at which research progresses dramatically could be outside of the speculation of the individual doing the experimenting.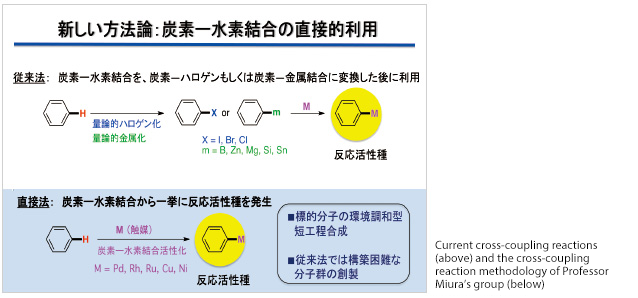 Supported by Others, He Has Walked His Path
In the School of Engineering, Professor Miura advanced to a laboratory which researches theoretical organic chemistry. But, "because the purity of the experimental materials I obtained for my graduation work happened to low, I caused some unexpected reactions. I was drawn in by how interesting these were, advancing all the way to the graduate program, and I obtained my doctorate degree in synthesis research," he said. After this, while working at private companies, he pursued research of pesticides. It was only for a short period, but the basic knowledge of drug synthesis he cultivated during that period has become quite useful, even in his current research.
When asked about the reason why he can continue research that is gathering attention from around the world, he replied, "The reason I have come this far is because I've been blessed with many partners and researchers that have come before me." In particular, Professor Miura praised Osaka City University Professor SATOH Tetsuya, with whom he received the Research Front Award from Thomson Reuters (at the time, Professor Satoh was an Associate Professor at Osaka University), "Without him, I wouldn't have been able to do it."
"At Osaka University, there is a foundation of long-standing cross-coupling research, and current research is taking place on top of those results. For example, I can give you names like Professor Emeritus MURAI Shinji of the Graduate School of Engineering and Professor Emeritus MURAHASHI Shun-ichi of the Graduate School of Engineering Science. It was Professor Murai in particular whose words gave me considerable encouragement when he said, "Sounds interesting, Miura," after I had him listen to my research idea." The synthetic chemistry research by Emeritus Professor Murai is being carried on even now in the Chatani Naoto Group, and they, along with Professor Miura, are connecting the history of cross-coupling research at Osaka University to the future.
At first, Professor Miura began walking down this path with the support of those who had gone before him. Now, he supports the students who are passionately continuing their research based on the idea that "students are the main players." "Even motivated students are going to whiff sometimes. But, those who do strike out often will get a few hits, and sometimes those hits turn into home runs," said Professor Miura, who is enjoying guiding the younger generation.
About Masahiro MIURA
After graduating from the Division of Applied Chemistry, School of Engineering, Osaka University in 1978, Professor Masahiro MIURA graduated from the Department of Process Engineering, Graduate School of Engineering, Osaka University, became an assistant and an assistant professor at Osaka University, and became a professor at the Division of Applied Chemistry, Graduate School of Engineering in 2005. In 2012, he received the Thomson Reuters Global Front Award for his "contribution to research to the development of New Methods for Oxidative Coupling through C-H bond Cleavage."  In 2014, he was awarded the Green and Sustainable Chemistry Award by the Minister of Education, Sports, Culture, Science and Technology for the Development of New Methods for Environmentally-Benign Dehydrogenative Cross-Coupling.