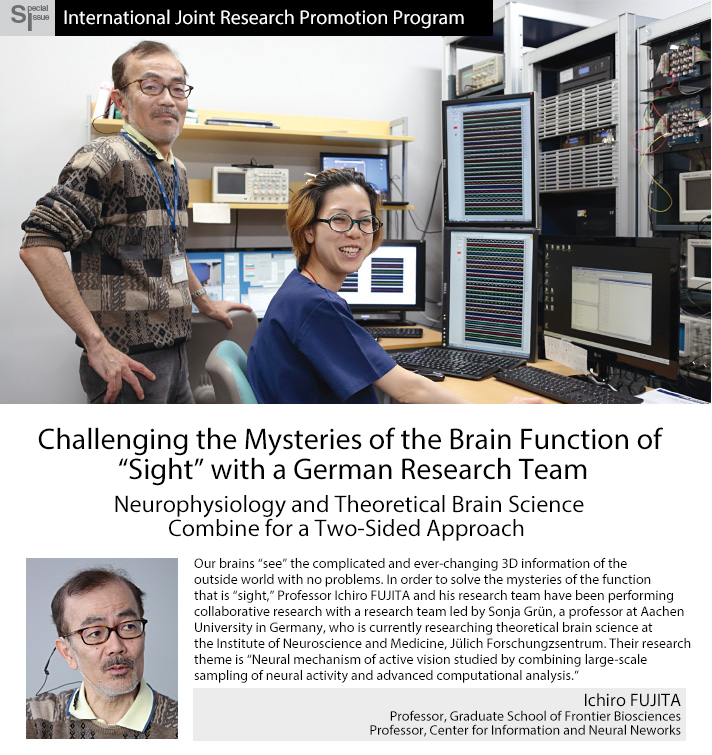 Challenging the Mysteries of the Brain Function of "Sight" with a German Research Team
In Pursuit of Explaining "Active Vision"
The focus of Professor Ichiro FUJITA's research is the relationship between eye movement and vision. "Even when looking at a still object, a human's eyes cannot stay still," he explains. "Through constantly and actively moving the eyes, a person can effectively gather information from his or her surroundings and deliver that signal from the retina through optical nerves to the brain, reconstructing their environment. This process is called active vision."
In order to clarify the function of active vision, Professor Fujita, along with Professor TAMURA Hiroshi, who works in the same laboratory, perform experiments on eye movement and nervous activity measured at various sites using test animals. They simultaneously observe the ever-changing activity of nerve cells, while obtaining and analyzing massive amounts of measured data. There are not many research groups who employ this type of research method, and the data collected by Professor FUJITA and his research team is known among researchers around the world.
So it was no surprise that even before the International Joint Research Promotion Program had started, Professor FUJITA had already received a joint research offer from Professor Sonja GRÜN, who has been employing statistical analysis in her brain science research. "Professor GRÜN wanted to solve the mysteries of the brain using a mathematical approach based on real data, and she wanted to accomplish that through making use of the massive amounts of data that my team and I have collected." There was a large merit to joint research for Professor FUJITA as well. "More than anything, the pace at which her team analyzes data is incredible. Analysis that would take us an entire year would take her group just a couple of weeks," said Professor FUJITA, blown away by the speed.
Digging up Hidden Treasures in Their Research
As a result of the mathematical analysis done by Professor GRÜN and her team, previously unexplained relationships between parts of the brain have come into view. There have also been times when the German side proposes to investigate a certain aspect further, and the two groups, through their complimentary styles, have allowed their research to continue at a break-neck pace.
Each group currently holds a television conference once every two weeks. "When we give our newly gathered data to the German team, we'll have useful analysis results by the time the next conference comes around. That's where the discussion begins. It's at those times that I realize how much of a treasure trove has yet to be dug up from our experimental data," says a smiling Professor Fujita.
In addition, because this research has become an International Joint Research Promotion Program project, the effects of the project include not just the research itself, but also extend into the realm of human resource development. Just in time for Professor GRÜN's visit to Japan, an intensive course for graduate school students called "An Intro to Theoretical Brain Science," as well as international symposiums and seminars held in cooperation with Professor GRÜN at the Graduate School of Frontier Biosciences and the Center for Information and Neural Networks.
"I feel that at Osaka University, the number of classes involving experimental brain science far outnumbers the classes on theoretical brain science. I think it's wonderful that the students have a chance to absorb Professor GRÜN's expert knowledge."
The Higher the Hurdle, the Bigger the Prize
However, since there are differences in their realm of expertise and approach, the occasional confusion and clashing of opinions will inevitably occur. "There are times when tall orders are requested of us," says Professor FUJITA, "but the taller the hurdle, the harder I work to meet the demand. The more difficult the task, the more I feel that we're undertaking an incredible challenge that we could never accomplish alone."
When asked about the secret to producing exceptional results at the end of the collaborative research, Professor FUJITA answered, "The most important thing is to discuss things together. That means discussing face-to-face what each side is asking for and what each side is trying to express." Through seriously conversing with one another, a new stage will appear. The teams from Japan and Germany will continue to work toward the challenge of explaining the process in which the brain handles visual information.
International Joint Research Promotion Program
As a measure for promoting its academic initiatives, Osaka University established the International Joint Research Promotion Program in 2013. In order to further enhance research quality and promote globalization of Osaka University, Osaka University supports advanced research between international researchers and Osaka University researchers. Currently there are 34 projects underway. As of May, 2015, international joint laboratories have been established between 42 universities and research institutions in 16 countries. This program also supports international chief researchers from overseas research institutions to perform collaborative research at Osaka University for more than 1 month out of each year.
About Professor Ichiro FUJITA

Professor Ichiro FUJITA received his doctorate degree in science from the Department of Biological Sciences (Zoology), Graduate School of Science, The University of Tokyo in 1984. After performing research at the National Institute for Physiological Sciences, the California Institute of Technology, RIKEN, and the Research Development Corp. of Japan, he became a professor at the School of Medicine at Osaka University in 1994. In 2002, he became a professor at the Graduate School of Frontier Biosciences and in 2013, he became a professor at the Center for Information and Neural Networks. His field of expertise is cognitive brain science. His written works includ What Does It Mean To "See"? , "The 3D World Created By Your Brain - The Mysteries and Mechanisms of Stereoscopic Vision," "The Superstitions of the Brain Boom," and "The Landscape of the Brain."